Below are descriptions of past branch activities from July 2012 – Sept 2006:
Activities is a great place for our new publication of The SCB Newsletter and Program & Event Reports
  If you have a Sussex County Branch newsworthy story to contribute please contact editor Michele Guttenberger – mguttenb@optonline.net
Please click on the file name below to open the newsletter.
Oct – Nov 2014 Issue 2 Newsletter
Please click on the file name below to open the report
Report of Apr 2015 SCCC $tart $mart Events
Future AAUW Sussex County (NJ) branch activities are listed in the branch calendar. Vist our About AAUW page for general information about our branch's activities.
---
---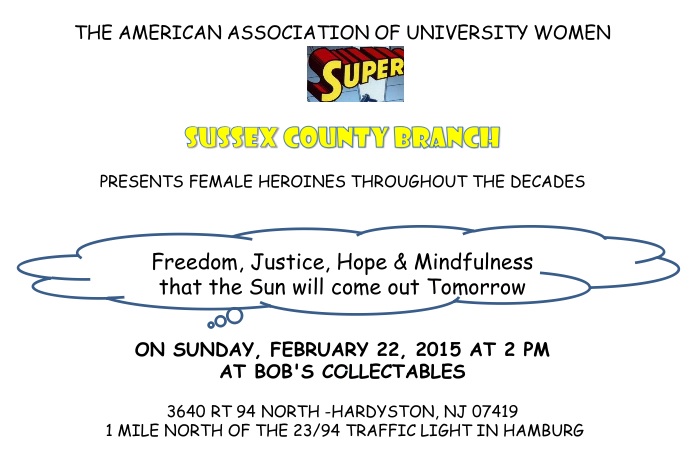 We had an  interesting presentation that was open to the public with a perfect  location for the theme of this event.  Bob's Collectables  was able to  draw a diverse group of people interested to learn about empowering female icons of leadership and heroic virtue and also get to discover the work that is done at AAUW within their own community,    AAUW SBC Membership VP  Linda Adams gave an expert discussion along with the staff of Bob Collectables – Bob Adams and Sean Hardy.  Branch President Michele Guttenberger tied all this great information together with a quiz.  We were amazed how this program brought out many young female comic book fans in the area.  We were pleased that that a young woman attending college would be the winner of our AAUW program quiz and be awarded the Stargirl action figure.  Both men and women attended this event and had great interest about the transformation of female comic book characters over the decades.  Another icon of female leadership  also presented was  minted coins and currency.  This lead to an interesting topic on women's history.
View our slide presentation below and take the quiz.  See how much you know about Female iconic figureheads of empowerment, leadership and virtue. 
Combined COINS – COMIC BOOK HEROINES THROUGHOUT THE DECADES
---
---
We are proud to announce our collaboration with
Sussex County Arts & Heritage Council
Gallery Show
" From a Women's Perspective" October 11 – November 1, 2014. 
This was a  milestone partnership for AAUW-NJ SCB  because, SCA&HC (Sussex County Arts & Heritage Council) is not just an art gallery group.  It is an official county agency that is connected with the NJ State Council on the Arts/Department of State and a partner agency of the National Endowment for the Arts.  AAUW-NJ SCB  was able to co-sponsor an exceptional show that offered  open enrollments even to  non SCA&HC member artists so that any female artist could participate.  It is equally important to support women in the Arts as well as Science Technology Engineering & Math –STEM.   The arts should also be promoted because it inspires innovation.   With the "A" in Art ,  women now have the STEAM to advance ahead.  The gallery opening night reception was held October 10th.  Besides viewing a women's perspective, we got to listen to divine music from women's voices in harmony.  Twenty two female artist submitted their work and two talented entrants from AAUW submitted their masterpieces – Carol Homelund and Linda Adams.
  Read the news on our event    View the photo album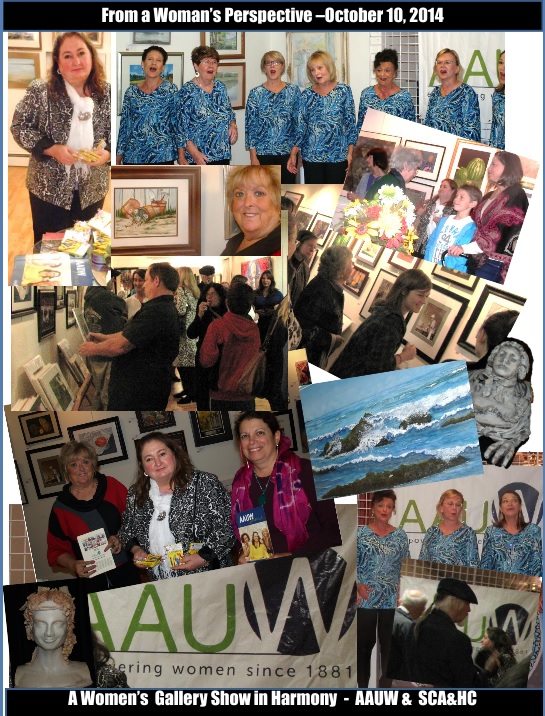 C
O

L

L

A

B

O

R

A

T

I

O

N

– TEAM MCNJ & AAUW-NJ SCB

Collaboration is MCNJ Motorsports Club of North Jersey  (the oldest operating club in NJ that still follows in authentic Mustang Club traditions) and AAUW-NJ Sussex County Branch (a branch that has  advocated empowering women and girls on the roads ahead since 1947),  sharing a worthwhile cause .  Together these two teams have collaborated on a  very novel fundraising  event for AAUW that uses Sussex County's beautiful and scenic rural roads.  This year's road "Rallye" was called "It must be a sign" .  Twelve car teams consisting of drivers and navigators from diverse age and gender felt supporting AAUW Educational Funds and Scholarships was worth the drive.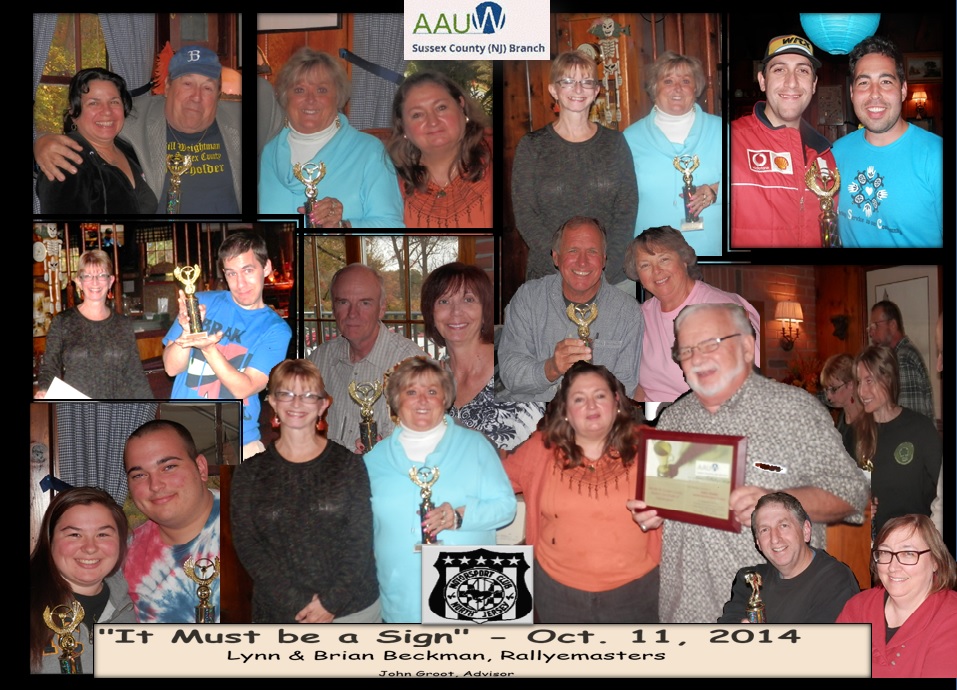 Thank you Motorsports Club of North Jersey
John Groot
&
AAUW & MCNJ Member
Lynn Beckmann
for the many years of Rallye Event fundraising
Read the news about this great team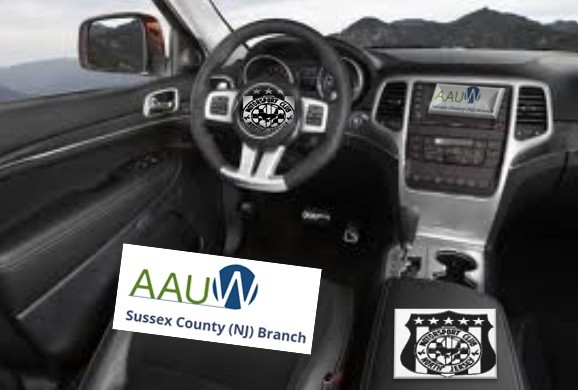 ---
AAUW-NJ Sussex County Branch Digs STEM Education at Sterling Hill Mine Museum
Our guide William Kroth ( President  & CEO)  of the center provided twenty attendees an excellent presentation of  the STEM education work they are doing. The museum offers such exciting hands-on introduction to geology and mineralogy to pique a young mind to seek out further study in engineering and science.  Equally impressive is the genuine on site  learning experience of  viewing a once active New Jersey zinc mine which depicts  the actual work life of a miner that is both local  and recent history.  AAUW branch member Linda Adams was able to  inject  her  personal story of her father's office position translating to the workers in their native language at the mine.  It was an genuine up close and personal  knowledge exchange .  Our tour guide promoted insightful discussions on the environment, cultural, social and economic issues on mining.  Few of us knew how much mining impacts all these areas.  We also connected AAUW's history to an element on the Periodic Table with our own quiz where many of the answers  can be found on their interactive webpage too  http://sterlinghillminingmuseum.org/periodictable/index.php
Here is the quiz:
Sterling Hill Mine Tour Quiz A
View our Photo Album http://www.photoshow.com/watch/Hr7Hk7Yy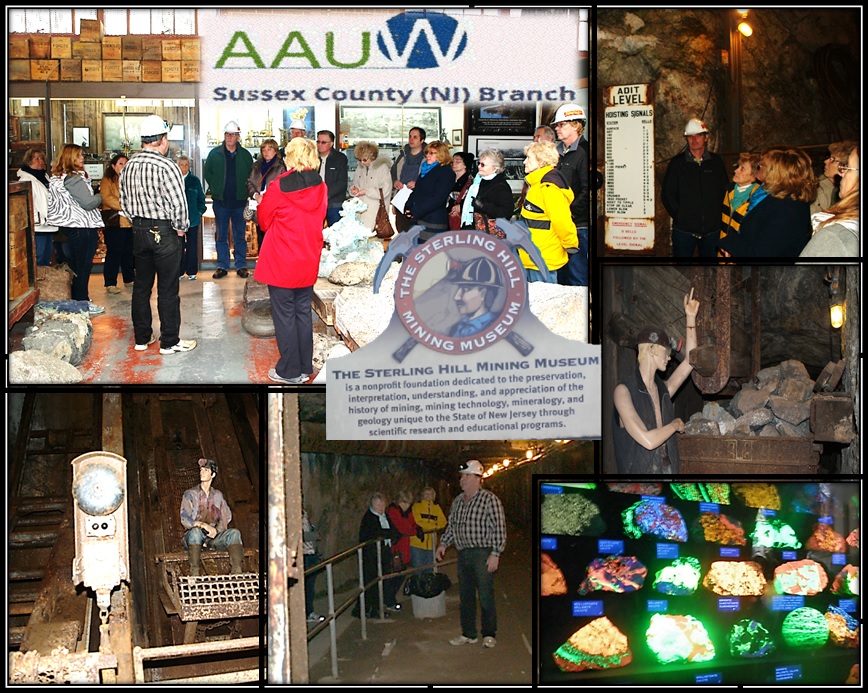 ---
---
---
September 2013 – June 2014 :
June 15th – Our 7th annual picnic at Sally Larson's home was so much fun. Sally pulled out all the stops to make it a wonderful day for all of us. The weather was great, the food was outstanding, and the friendships were shared to make for a perfect day.
June 9th – 12th –The AAUW National Convention was held in New Orleans, Louisiana
The June Film Night attendees previewed Ladies in Lavender staring Judi Dench and Maggie Smith.
May 2013:
May 18th – The Branch Annual Meeting and Luncheon was well attended at the Main Street Grille, in Andover, NJ. Our Scholarship recipient is usually the guest speaker, but she was unable to attend the event. The election of officers for the 2013-2014 AAUW year occured.
The May Film Night attendees previewed The Queen staring Helen Mirren and Michael Sheen.
In May, the Book Club Members read Off the Hook by Eric Holmelund.
April 2013:
April 20th – Our Monthly Bagels and Buns Meeting was held at the Sparta Methodist Church. Our guest speaker, Dr. Mary Anne Anderl, is the author of Women Soldiers of the Revolutionary and Civil Wars. The book was produced by the Northern Monmouth County branch of AAUW. Her powerpoint presentation, well attended by many guests, was fascinating and the question and answer period was quite active. Following the meeting, our branch treated Dr. Anderl and her husband to lunch at The Lafayette House in Lafayette, NJ.
April 19th – High Point Regional High School's Women in Engineering teacher, Mark Wallace, brought 16 young ladies from his class to tour ThorLabs in Newton, NJ. The tour was sponsored by our branch, under the direction of our STEM Chair, Dr. Mary Rapuano. It was a wonderful day for all involved. It was truly inspiring to see these young women interested in STEM curricula.  Having attended the tour to represent our branch, Lynn Beckmann and Carole Monesmith understood firsthand the importance of AAUW's focus on highlighting and encouraging STEM within the national arena.
April 13th – The AAUW-NJ Annual Meeting was held at the Forsgate Country Club in Monroe Township, NJ.
The April Film Night attendees previewed Strangers in Good Company staring Alice Diabo and Constance Garneau.
In April, the Book Club Members read The Kitchen House by Kathleen Grissom.
March 2013:
March 16th – Our Monthly Bagels and Buns Meeting was held at the Sparta Methodist Church. Our guest speaker was Mr. Mark Wallace who teaches the Women in Enginering class at High Point Regional High School. His presentation was great and encouraged the branch members that STEM was being strongly addressed in Sussex County. As a side note, Mr. Wallace received the 2012-2013 Teacher of the Year Award at High Point Regional High School.
The March Film Night attendees previewed Tea with Mussolini staring Cher, Maggie Smith, and Judy Dench.
In March, the Book Club Members read State of Wonder by Ann Patchett.
February 2013:
February 16th – Our Bagels and Buns Meeting was held at the Sparta Methodist Church. Women Air Force Service Pilots (WASPs) were a trailblazing group of 1,102 civilian female pilots during World War II. To learn more about these incredible women, our branch members viewed the movie The Fly Girls. We had invited Emmy Kline who was one of these honored women, but sadly she had recently died before the meeting.
The February Film Night attendees previewed A League of Their Own staring Tom Hanks and Geena Davis.
In February, the Book Club Members read Life of Pi by Yann Martel.
January 2013:
January 19th – Our Bagels and Buns Meeting was held at the Sparta Methodist Church. Our guest speaker was Linda Zwart who is the person responsible for starting Manna House, the soup kitchen in Newton. She explained her 25 years involvement with helping the less fortunate people of Newton and others in Sussex County.
The January Film Night attendees previewed Erin Brockovich staring Julia Roberts and Albert Finney.
In January, the Book Club Members read The Midwife of Hope River by Patricia Harman.
December 2012:
December 15th –Many of our members enjoyed fun and good times at our Holiday Party at Lynn Beckmann's beautiful home. Everyone brought a specialty for the delicious brunch. so as usual, we overate…but so worth it. Thank you, Lynn!
November 2012:
November 17th –Our Bagels and Buns Meeting was held at the Sparta Methodist Church. Our guest speaker was Marion Cuff who founded The Grace Financial Group in 1987, offering financial planning, investments, insurance, mortgages, cash flow analysis, debt elimination, college planning and estate planning.
The November Film Night had to be canceled.
In November, the Book Club Meeting was canceled due to snow.
October 2012:
October 20th –AAUW-NJ Fall Focus was held at the Forsgate Country Club in Monroe Township.  This is always a lovely day visiting with New Jersey AAUW members, enjoying a continental breakfast, a wonderful buffet luncheon, and the Keynote Speaker – Lisa Maatz from National AAUW.
October 13th – Our Monthly Bagels and Buns Meeting was held at the Sparta Methodist Church. Our guest speaker, Ms. Robynn Meehan who is a facilitator for the NJ School Board Association, highlighted the role of school boards and her role with them. An enlivened question and answer period followed her presentation and it enabled all attendees to be personally involved.
The October Film Night attendees previewed Real Girls Have Curves staring America Ferrera and George Lopez.
In October, the Book Club Members read The Other Boleyn Girl by Philippa Gregory.
September 2012:
September 15th – Our Kick-off Luncheon was at O'Reilly's Grill and Pub on 271 Spring Street in Newton. We had a great time sharing our summer activities. We discussed National AAUW's direction for the upsoming year, and we also learned about the programs that were planned for our local Monthly Bagel and Buns Meetings.
The September Film Night attendees previewed The Biography of Eleanor Roosevelt.
In September, the Book Club Members read Saving Cee Cee Honeycutt by Beth Hoffman.
July 2012:
July 28th –The skies opened up as sixteen teams made their way north from Byram Township, but that did not deter the completion of the latest AAUW Sussex Co. branch fundraiser, a road rallye named "Farming It Out".  Sixteen teams set out from the McDonald's in Byram Twp. on a "fun" road rallye which took them 65 miles through Sussex Co., including Lafayette and Lake Neepaulin before ultimately leading them to their final destination, Chun Bo restaurant in Newton.  Along the way, teams encountered various traps, designed to take them off course.  Unfortunately, some teams did find themselves off the rallye route entirely, but a phone call or two to Lynn Beckmann, rallyemaster, got them back on track.  She and her husband Brian were stationed at two manned checkpoints along the course, a very wet task that day! We are so appreciative to both Lynn and Brian for writing and manning this fundraiser for the third consecutive year.
June 2012:
June 9th – 11:30: Our annual picnic at Sally Larson's gorgeous home was even more special because we had quite a few guests and a good turn-out of our members. The food was great, as usual, and the weather was perfect.  As soon as the last person to leave closed the door to her car, the rain startedto drizzle.  How lucky we all were! We always enjoy each other's friendship, cooking, and experiences, and this year was certainly no exception.
The June Film Night previewed A Mighty Heart starring Angelina Jolie and Dan Futterman.
May 2012:
May 19th – Our branch end-of-the-year luncheon was held at the Trinity Restaurant and Lounge in Newton, NJ. The 2012-2013 Election of Officers was held. It was a relaxing time for all of us. There was no general meeting, but we did discuss branch programs for the upcoming year and some ideas regarding the focus of our branch activities.
The May Film Night previewed The Blind Side starring Sandra Bullock and Quinton Aaron.
In May, the Book Club Members read Age of Innocence by Edith Wharton.
April 2012:
April 21st – Lee Williams, the Promotions & Special Projects Manager at the New Jersey Herald, invited us to meet her at the NJ Herald building for our April Branch Meeting.  She shared her story of becoming a successful woman in the business world. She also showed us slides from the two books that the NJ Herald published about Sussex County people in the past, focusing on especially interesting women of those times .
April 14th – The AAUW-NJ Annual Meeting was held at the Forsgate Country Club in Monroe Township, NJ. The guest speakers were Charmen Goehring-Fox from National AAUW and our very own branch member, Sylvia Montero. We were so proud of Sylvia when she received a standing ovation for her fabulous presentation.  Many members from our branch wanted to support her so we also earned the award for most branch attendees to the AAUW-NJ Meeting. Sylvia also sold many copies of her book, Make it Your Business, so it was totally a win-win day!
The April Film Night previewed Changeling starring Angelina Jolie and John Malkovich.
In April, the Book Club Members read Memoirs of a Geisha by Arthur Goldman.
March 2012:
March 17th – Our guest speaker, Vince Parrillo, author of Guardian of the Gate, discussed his new historical novel about Ellis Island and the people who worked there in the 1890s.  Having previously spoken at other AAUW branches, and being familiar with our mission, Mr. Parrillo focused on the dramatic events that occurred during that time frame, with special emphasis on women.
The March Film Night previewed Amelia starring Hilary Swank and Richard Gere.
In March, the Book Club Members read Guardians of the Gate by Vincent Perrillo.
February 2012:
February 11th – The guest speaker at our February Bagels and Buns Meeting was Ann Pompelio, one of our branch members. Ann gave a talk/presentation on how she arrived at her career and her current establishment as an attorney in our county. The question and answer period offered serious insights and discussion on many women's legal issues which are of relevance in today's world.
The February Film Night previewed American Violet starring Nicole Beharie and Will Patton.
In February, the Book Club Members read Make it Your Business by Sylvia Montero.
January 2012:
There is no scheduled branch meeting in January because of generally snowy conditions.
The January Film Night previewed Georgia O'Keeffe starringJoan Allen and Jeremy Irons.
In January, the Book Club Members read Unbroken by Laura Hillenbrand.
December 2011:
December 17th – The annual Holiday Party was again hosted by Lynn Beckmann at her lovely decorated home. The festivities were joyful and because everyone is asked to bring a specialty for the delicious brunch, everyone overate!
November 2011:
November 12th – Guest speaker, Sylvia Montero, spoke at the Sussex County Main Library. From a plantation shack in Puerto Rico to the Projects of the Lower East Side of New York, Sylvia Montero talks of her rise to becoming the highest ranking Latina in the history at Pfizer Inc, the world's largest pharmaceutical company, as head of their global Human Resources Unit. In her book, Make it Your Business, she tells her story of challenges as a young girl and a young woman: immigration, learning a second language, being a minority, poverty, failed marriage, single motherhood, failure, and layoff. She has condensed a 30+ year career in Human Resources into themes that illustrate how to climb the Corporate Ladder.
The November Film Night previewed Temple Grandin starring Claire Danes.
In November, the Book Club Members read Hotel at the Corner of Bitter and Sweet by Jamie Ford.
October 2011:
October 15th –The AAUW-NJ Fall Focus was held at the Courtyard Marriott in Cranbury, NJ.
Six AAUW Programs in a Box Ideas werediscussed with copies of each program,
reviewed by pre-set groups of attendees, allowing discussions of each idea to be informative
and interesting.  In addition, moderator, Ashley Hobbs, and Georgian Court University women, attendees of the National Conference for College Women Student Leaders (NCCWSL), presented Women Speak Up.
October 1st – Our Monthly Bagels and Buns Meeting was presented at the Sussex County Arts and Heritage Council Gallery in Newton. Our attending members had a prized private viewing/hearing of the Smithsonian Touring Exhibit. The Sussex County Arts and Heritage Council was selected to host New Harmonies, a traveling exhibition brought to the public by the Smithsonian Institution and the New Jersey Council for the Humanities. One of only six sites chosen in New Jersey, the SCA&HC Gallery, at 133 Spring Street in Newton, was the exhibition's only venue north of Trenton. Consisting of seven freestanding modules with interactive listening stations, the exhibit allowed visitors to experience a journey through the rich musical heritage of our country and the sounds that emerged, from African and American drums to gospel, blues, country, folk, and historical protest music.
The October Film Night previewed Not Without My Daughter starring Sally Field and Alfred Molina.
In October, the Book Club Members read Cutting for Stone by Abraham Verghese.
September 2011:
September 17th – Our "kick off" meeting for the 2011-2012 branch year was a luncheon at JC's Grill House in Newton. Sally Goodson, AAUW-NJ's President, was the Guest Speaker, discussing many of the state and national programs that were presented at the 2011 AAUW National Convention in Washington, D.C. Sally answered many of our questions so we had a better understanding of some of the new directions that national AAUW plans to go in the future.
In September, the Book Club Members read The Immortal Life of Henrietta Lacks by Rebecca Skloot.
Below are descriptions of past 2011/ 2012 branch activities:
June 2012:
June 9th – 11:30: Our annual picnic at Sally Larson's gorgeous home was even more special because we had quite a few guests and a good turn-out of our members. The food was great, as usual, and the weather was perfect.  As soon as the last person to leave closed the door to her car, the rain started to drizzle.  How lucky we all were! We always enjoy each other's friendship, cooking, and experiences, and this year was certainly no exception.
Below are descriptions of past 2010/ 2011 branch activities:
June 2011:
June 11th – 11:30: Our annual picnic at Sally Larson's home.
May 2011:
May 24th – The Soup and Supper Book Club meeting was hosted by Lynn Beckmann this month. Jane Eyre by Charlotte Bronte was the book of interest for this month. It is a novel often considered ahead of its time due to its portrayal of the development of a thinking and passionate young woman who is both individualistic, desiring for a full life, while also highly moral.  Jane evolves from her beginnings as a poor and plain woman without captivating charm, to her mature stage as a compassionate and confident whole woman. Although Jane suffers much, she is never portrayed as a damsel in distress who needs rescuing.  For this reason, it is sometimes regarded as an important early feminist (or proto-feminist) novel.
May 21st – Our branch end-of-the-year luncheon was held at JC's Grill House in Newton, NJ. Election of Officers was held and our Virginia Randall Scholarship winner from Sussex County Community College, Randi Thoma, was our special guest to share her thoughts with us upon becoming the recipient of our yearly scholarship. Her mother, Ronda Thoma was also invited because she too is attending SCCC.  We thought that was an added bonus! There was no general meeting.
April 2011:
April 16th – The AAUW-NJ Annual Meeting was held at the Forsgate Country Club in Monroe Township, NJ. One of the special guest speakers was Linda Hallman, the National AAUW Executive Director. Dean Karen Goff, Graduate student Ashley Hobbs, and the Georgian Court WILD Women (Women in Leadership Development) were also our special guests at our AAUWNJ state meeting. The students gave their informative and spirited presentations about their four phase student leadership program, including life mapping, weekend retreats, goal setting, mentoring, campus leader-ship, and student service projects. The students truly inspired us with their educational goals, poise, and leadership skills.
April 12th – The April monthly branch meeting was scheduled to be held at Sue Green's home to view the Strangers in Good Company DVD film. The board decided that we would have a film evening instead of two AAUW meetings on Saturday in April.  We cleared a normally scheduled April meeting with the hopes that our members would attend the AAUW-NJ Annual Meeting in Monroe Twp. at the Forsgate Country Club on April 16th. An Independent Film Evening is a night when we meet to see a specific film which is thought provoking and geared towards women's issues or women's perseverance. The movie is thoughtfully selected to encourage group discussion. In other words, it is not "just any old movie" that an individual can rent and see in their own living room. Unfortunately, our meeting had to be canceled, and viewing of the film will be in the near future.
March 2011:
March 22nd – The book Club Meeting was hosted by Carol Holmelund this month. The book that was discussed was Half the Sky: Turning Oppression into Opportunity for Women Worldwide by Nicholas Kristof and Sheryl WuDunn.  "Half the Sky" tackles atrocities and indignities from sex trafficking to maternal mortality, from obstetric fistulas to acid attacks, and absorbing the fusillade of horrors can feel like an assault of its own. But the poignant portraits of survivors humanize the issues, divulging facts that moral outrage might otherwise eclipse. Mingling tales of woe with testimonials to people power, the authors explain how tragedy can spawn opportunity. Their hope: "To recruit you to join an incipient movement to emancipate women."
March 19th – Our monthly Bagels and Buns Meeting met on March 19 th at the Sparta Methodist Church at 10:00.We were extremely fortunate to have Dr. Amanda Canova as our guest speaker. She discussed women's health care issues and her feelings about being a gynecologist in the 21 st Century. We had so many questions and, of course, she answered all of them; directly, to the point, and in lingo that we understood. The members clearly learned a great deal from her and she probably increased her patient roster! It was truly a win-win sort of day!
February 2011:
February 19th – Kara Stark McGrew, from Sparta, shared her experiences as a therapeutic horse riding teacher at our February Bagels and Buns Meeting. The pictures of "her kids" brought tears to our eyes as we viewed the marvelous pride that these children received from their horse therapy. It was quite an inspirational meeting for all of us.
January 2011:
January 29th – The issue of violence against women and girls was the focus of the AAUW/NJ's fourth Issues Conference at Brookdale Community College in Lincroft, NJ.
The AAUW conference featured accomplished speakers on domestic issues, global health, and national security and human rights concerns. Janice Kovach, former director of the New Jersey Commission on Women and a member of the NJ Commission on the Status of Women, discussed the ramifications of violence against women from the legal and policy perspective. Janet Lee, LCSW, explained the role of 180 Turning Lives Around, an organization that for 35 years, has served over 300,000 individuals and families faced with domestic violence and assists them in turning their lives around. Several speakers who had been victims of domestic violence related there compelling stories. Amelia C. de Asa–Weiland, a program manager from the Women Veterans Program in East Orange and a combat veteran outlined many of the services available to women veterans and discussed the unique issues facing women in the military. Fahima Vorgetts, a member of the Board for Women for Afghan Women, described the work she has done and is continuing to do to protect and empower women of Afghanistan. She has started schools for girls and assisted women to develop small businesses. It was a snowy month so we did not offering a scheduled monthly Bagels and Buns Meeting.
December 2010:
December 11th – The annual Holiday Party was again hosted by Lynn Beckmann at her lovely decorated home .  Mary Jo Mathias and Dawn Tedesco were our guests for the party. Mary Jo, a pianist and flautist, and Dawn, a violinist, shared the history of various carols and beautifully provided the entertainment for our brunch.
November 2010:
November 13th – Our guest speaker for the November Bagels and Buns Meeting was Wendy Blanchard. She is the Founder of "Arthur and Friends", which is an organization that sponsors hydroponic gardening by differently-abled individuals. These young people plant and sell their produce to NJ residents.  The organization is based on the following ideals for the differently-abled people:
To develop life skills as well as work skills
To develop a culture to utilize their potential
To achieve economic self-sufficiency within their community
October 2010:
October 23rd – Our Second Annual Road Ralley:   It was a gorgeous autumn day on for the second annual running of our branch's major fundraiser. There was a total of 18 cars participating this year. Rallyists began their adventure at the McDonald's in Byram Township, and soon found themselves on the beautiful country roads of Warren Twp. Each car followed a set of instructions which carried them past a number of local cemeteries, while various Halloween-type questions had them on the lookout for answers along their way. Also written into the instructions were 12 course-following "traps", based on MCNJ (Motorsport Club of North Jersey) official general instructions. Rallye cars incurred penalties for failing to adhere to these instructions, ending up temporarily "off course". The rallye's ending point was at Bella Italia restaurant, where rallyists enjoyed a buffet lunch of various pastas, salad and pizza. Trophies were awarded in three categories: expert, intermediate, and novice. Special awards were also handed out, including best husband/wife team, the "Dead Last but Finished" award, best AAUW car, won by Connie Fadden and friends, and best "First Timers", won by Marg Anderson and Diane Crawford. The branch netted approximately $600.00, earmarked for the national education and legal advocacy funds.
October 16th – Nadine Lyons, a Young Living Essential Oils independent distributor was scheduled to speak about the healing, therapeutic benefits of essential oils.  She planned to offer an A – Z guide of the essential oils, oil enhanced products, and educational materials to better understand the difference that essential oils can have in the lives of individuals. Unfortunately, the meeting had to be rescheduled for another time. Hopefully, Nadine will be our guest at another monthly meeting in the near future.
October 9th – This is always a lovely day visiting with New Jersey AAUW members; continental breakfast; wonderful buffet luncheon; and AAUW speakers on up-to-the-minute issues. The statewide Fall Focus Meeting was held on October 9 th at the Forsgate Country Club. AAUW members from all over the state attended, receiving useful information about the College/University Partner Member Program. Since promoting women's education has always been the centerpiece of AAUW's mission, this new initiative is a perfect fit. AAUW-NJ is encouraging all branches to reach out to one or more colleges or universities in their areas to join AAUW and partner in our programs. Students will greatly benefit from free e-student affiliate status and access to many AAUW benefits including publications and research, leadership and professional development opportunities, scholarships and grants, and networking with the branches. Speakers included Cordy Galligan, AAUW director of corporate relationships; Dr. Lin Rising, AAUW-CT C/U liaison; Scott Delfino, Princeton Review; Avis McMillon, our liaison and interim executive director of college relations at Brookdale Community College; and Shauna Channer, who is a Brookdale Community College relations assistant.
September 2010:
September 11th – Our branch members enjoyed a wonderful tour of the DAR Museum in Wantage, NJ. The tour began at 10:30 and, we visited the gift shop following the tour. After touring the museum, we lunched at the Elias Cole Restaurant in Coleville, NJ.  It was a great way to begin a new AAUW branch year; learning new things and enjoying the friendships that we have garnered with within our branch. There was no general branch meeting.
Below are descriptions of past 2009/ 2010 branch activities:
June 2010:
June 12th – The day was warm and sunny; a perfect afternoon, in fact, to enjoy a great time at Sally Larson's home to celebrate our 4th Annual AAUW Picnic. We devoured picnic foods of every type, and we simply enjoyed the time that we shared with our branch friends..
May 2010:
May 15th – For the second year, our branch participated in Sussex County Community College's Women's Weekend. We think that this is a great manner in which to network and to "get our name out" within the community. The Women's Weekend is an opportunity for people ages 18 and older to gather for a fun-filled experience. The day features breakfast, lunch, and dinner along with interesting workshops and area vendors. Those who attend have the chance to explore something new to help them live a better life, learn something they've always been curious about, and have time to relax and enjoy the day.
May 8th – Our Branch Luncheon was held at JC's Restaurant. Our 2010-1011 officers were elected. We thank them for donating so much time to forward our mission. The guest speaker was Gloria Milan, from DYFS. She shared her thoughts about the DYFS philosophy with her engaging discussion focusing on "Open Your Heart and Your Home".
April 2010:
April 17th – Branch members were encouraged to attend the AAUW-NJ State Annual Meeting at the Forsgate Country Club. Our branch received recognition for having the 2 nd highest number of attendees at the New Jersey State Meeting.
April 3rd – Ailish Hambel was our guest speaker at our Bagels and Buns Meeting at the Sparta Methodist Church. The focus of her presentation was "How a Little Girl from Ireland Became a Business, Political & Social Leader in New Jersey"
April 1st – Members of AAUW-NJ were encouraged to send high school girls to attend AAUW
NJ TEEN TECH at the College of NJ. This outstanding activity provides hands-on technology workshops for girls.
March 2010:
March 13th – Our monthly Bagels and Buns Meeting was held at the Sparta Methodist Church at 10:00. We had a shorter meeting and in lieu of a guest speaker, we showed the film, Patsy Mink: Ahead of the Majority. The 56 minute film looks at Ms. Mink's remarkable political journey, as she fought for the disenfranchised and forgotten in society. The film goes beyond her accomplishments to reveal a woman whose political journey was lonely and tumultuous. She is well remembered for transforming America's schools as the co-author of Title IX, the landmark legislation that opened up higher education and athletics to women.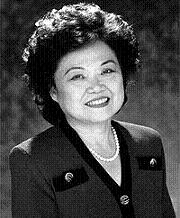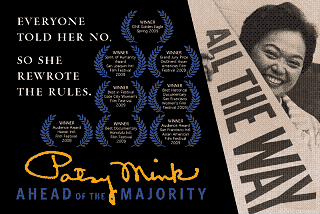 March 4th – Members of our branch attended a special event at the Rockaway AMC Theater. AAUW branches across the United States participated in Half the Sky LIVE, a one-night only movie event presented by CARE on March 4. Sheryl WuDunn, co-author of Half the Sky: Turning Oppression into Opportunity for Women Worldwide – the book which inspired the film, publicly recognized AAUW, saying: "We would like to especially thank CARE's partner organizations, like the American Association of University Women, Alpha Kappa Alpha Sorority, and the Girl Scouts of the USA, which have rallied their members around the country to take part in this event. They are raising their voices on behalf of the mothers, daughters, grandmothers, and sisters around the world – those who may not have the platform to speak out." CNN, the Huffington Post, and the St. Augustine Record, which highlighted AAUW branch participation, all covered the event. Have you purchased your copy of Half the Sky yet? AAUW's Barnes and Noble partnership provides discounts when you purchase books through the AAUW portal. Visit www.bn.com/aauw. Half the Sky is a New York Times bestseller and Tom Brokaw has said its stories "will pierce your heart and arouse your conscience.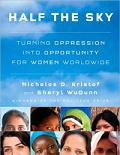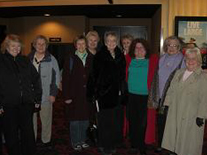 February 2010:
February 20th – Claire Willetts, from Project Self Sufficiency was our Guest Speaker for the February 20 thBagels and Buns Meeting. She made us feel especially proud of all the work that
PSS does for Sussex County women. Her topic, "Helping Women in Need to Become Self Sufficient", was particularly inspiring for the attendees. Our branch donates money to PSS, and Ms. Willetts's discussion brought to the forefront the importance that our monetary donations are to this stellar organization. Claire Willetts is pictured below; 3rd from the right.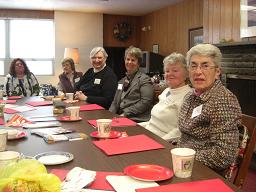 February 9th – Our members revived the Book Club this month by having a Supper/Meeting at Carole Monesmith's home. The members really seemed to enjoy this combination of eating while discussing a book so we decided to continue this type of activity. We also thought that having the Book Club on the same day each month allowed members to realize their commitments better. We decided that the second Tuesday of each month would work well for the majority of ladies. This month we had an active discussion of Louisa May Alcott: The Woman Behind Little Women by Harriet Reisen. We delved into three segments for the discussion: 1. the author's writing about Louisa May Alcott; 2. Louisa May Alcott's life; and 3. the works of Louis May Alcott. Actually we even discussed transcendentalism so ¼ make that four segments!



January 2010:
No meetings were scheduled in January.
December 2009:
December 12th – Lynn Beckmann hosted our annual Holiday Brunch at her lovely home. Her gorgeous "Rainbow-themed" Christmas tree and other beautiful decorations did not disappoint…that's for sure! Plenty of food, laughs, and holiday cheer were enjoyed by all. It was a most pleasant and delightful time that we all shared.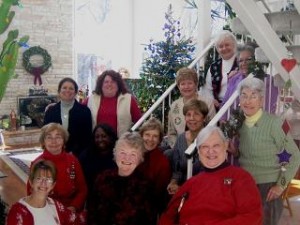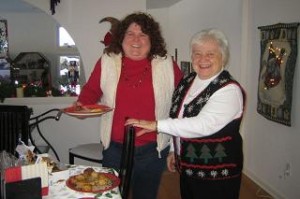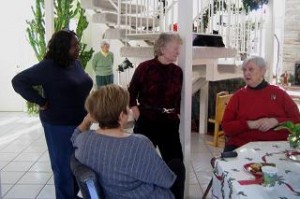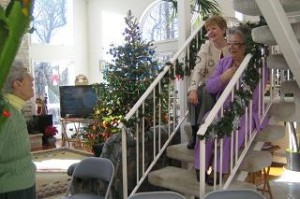 November 2009:
November 7th – Our Monthly Bagels and Buns Meeting met on November 7 th with Carrie Radice, Representative from Interfaith Hospitality, as our Guest Speaker. "Taking Care of Homeless Women, Children, and Families" was the main topic which she discussed with us. We were extremely impressed with the organization of the Interfaith Hospitality, and the manner in which the Sussex County Churches work together to help the needy families.
October 2009:
October 17th – Sylvia Campbell, a worldwide Environmentalist was our Guest Speaker for our October Bagels and Buns Meeting. She is a well known environmentalist who addressed "Saving NJ's Environment" to our members. She showed us incredible slides of places that she has been; both in the United States and globally while working with the Earthwatch Institute.
October 18th – Greetings from the Graveyard II Road Rally was one of our major fundraisers, which was held on October 18 from 11:00 to 5:00. After completing the rally, the participants "ended up" at Newton's Applebees to eat and to be awarded their prizes. It was the first time that we tried this type of a fundraiser, and it was a blast. We netted about $600.00 which we thought was pretty good considering it was a brand new idea. Lynn Beckmann planned the time-consuming rally and without her endeavors, this 1.) would never have been thought of and 2.) WOULD NEVER HAVE HAPPENED. Thanks Lynn for all of your hard work for our branch!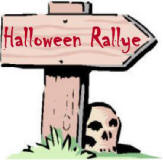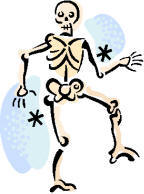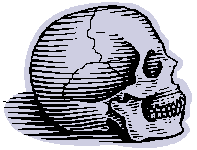 September 2009:
September 12th – Our branch's new year began with our AAUW-NJ State President, Ms. Ginny Lyttle, visiting us for our Bagels and Buns Meeting. Her topic of discussion, "My Vision of the Future of AAUW" focused on the many changes which occurred at the national AAUW Convention in St. Louis, MO in June. Our members had many questions which Ginny adeptly answered, as well as stating the direction that AAUW is headed.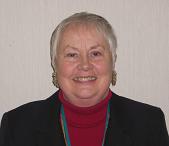 Below are descriptions of past 2008/ 2009 branch activities:
June 2009:
June 25th to 28th – Two branch members, Carole Monesmith and Jessica Pierson, attended the National AAUW Convention in St. Louis, Missouri. Carole was a State Delegate and Jessica voted as a Branch Delegate. It was exciting, informative, invigorating, and hot!! We attended workshops, attended many bylaw revision sessions, heard fabulous guest speakers, and even attended a Suffragist party which was hosted by a gecko! I know that we both returned to New Jersey with one thing in mind – Go AAUW!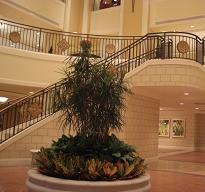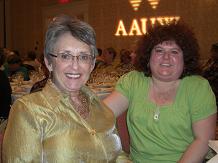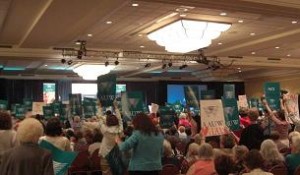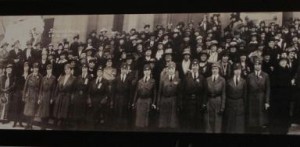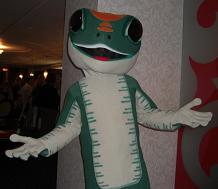 June 20th– Our third end-of-the-year Annual Picnic was rainy, actually a downpour, but we didn't let that stop us from having a great time. The group was small, but that did not bother us either! In fact, a new member joined our branch…welcome Debbie!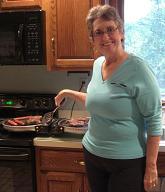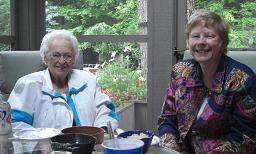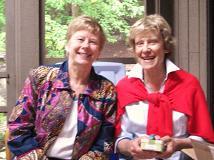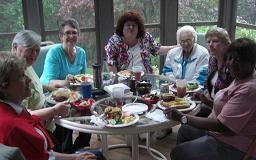 May 2009:
May 9th – Our Sussex County Branch concluded the 2008-2009 AAUW year by having our Annual Meeting and Luncheon at JC's Restaurant in Newton. Our guest speakers were Katherine Weaver, this year's Virginia Ray Randall Scholarship for the Arts recipient, and her mother, Sara. Katherine concluded her second year at SCCC, majoring in graphic arts. In keeping with our theme this year of "Women of Success: Who, What, Why, and How their efforts affect us", Sara elaborated on her role as a successful mother while at the same time, forming her own professional proofreading business.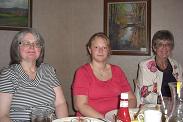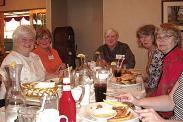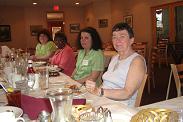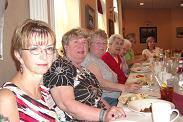 April 2009:
April 25th – Our Sussex County branch held its annual garage sale on April 25th, to raise funds for local scholarships and the national AAUW Educational Foundation. The recent garage sale netted $744.04 profit.  The AAUW Educational Foundation supports aspiring scholars around the globe, teachers and activists in local communities, women at critical stages of their careers, and those pursuing professions where women are underrepresented.
April 18th – The AAUW-NJ's Annual Meeting was held on April 18th at the Forsgate Country Club in Monroe Township, NJ. President Ginny Lyttle introduced Sally Chamberlain, who represented AAUW (national) and provided important information on a variety of topics. Members of our branch were so pleased that AAUW-NJ's "Women at Agents of Change" award was presented to Dr. Mary Rapuano. Six years ago, as a faculty member at Sussex County Technical School in Sparta, Mary founded the Spanish Cultural Club. As a way of fulfilling the club's mission of forging ties with our Latin American neighbors, the group organized humanitarian trips. When devastating floods destroyed parts of the Dominican Republic in 2004, they saw this as a learning opportunity and a chance to help others. Mary and her colleagues have returned to the beautiful Caribbean nation of the Dominican Republic every year since 2004. Through these trips, many students have experienced first-hand the poverty that exists so close to their homes, and felt a sense of purpose in helping those less fortunate than they.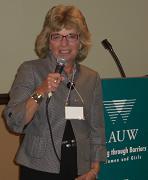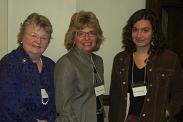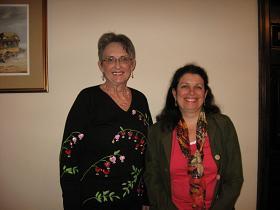 April 14th – The fourth installment of the Suze Orman financial seminar was held at Carole Monesmith's home on April 14th.  We discussed "must-have documents" that each of us should have in our portfolios.  Getting organized is an important step towards financial freedom, and Suze Orman makes this step easy and comfortable.

April 4th – Our branch participated in Sussex County Community College's Women's Weekend which was held on April 4th. The Women's Weekend is an opportunity for people ages 18 and older to gather for a fun-filled experience. The day features breakfast, lunch, and dinner along with interesting workshops and area vendors. Those who attend have the chance to explore something new to help them live a better life, learn something they've always been curious about, and have time to relax and enjoy the day.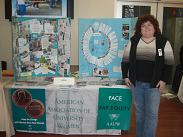 April 4th – We were very fortunate to have Ms. Patricia Packard as our guest speaker for the April 4th Bagels and Buns Meeting. Patricia is a Counselor/Advocate for the Domestic Abuse & Sexual Assault Intervention Services (DASI). DASI is a private nonprofit agency in Sussex County, New Jersey, providing services for over twenty years to victims and survivors of domestic violence and sexual assault and their families. The agency's mission is to change attitudes about violence and abuse held by individuals, institutions and the community at large. This will be accomplished through the provision of comprehensive direct services to survivors of domestic violence and sexual assault and their families, community education and prevention programs, advocacy, and batterer intervention services.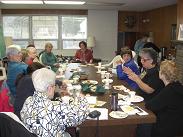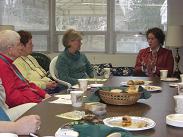 March 2009:
March 31st – We definitely had a good time at our Independent Film Evening which was held at Carole Monesmith's home on March 31 st. Just think – popcorn, candy, a great movie, and even greater friends. What more could one ask for, one might ask. I guess the answer is to do it all over again next month, with a different movie, of course! We finally were able to see Iron Jawed Angels , which had to be cancelled in October due to snow. We all were glad that we rescheduled this important film, which depicts the agony, tragedy, and victory of the suffragists who fought for women's right to vote, because it certainly was an important film to watch and to discuss.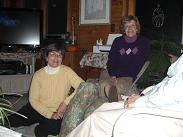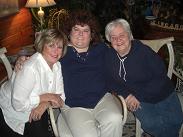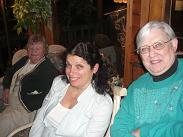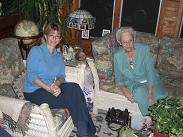 March 24th – Muriel Everhart was the kind hostess for our March 24th Book Club. Her desserts tied in to the plot of the book that we read, Five Quarters of the Orange by Joanne Harris. This book completes the "food trilogy" (Chocolat, Blackberry Wine) and explores some of the same themes, although this third book is much darker than the previous two. Five Quarters is a novel about betrayal; intimate betrayals, unspoken betrayals, betrayals within the family, the wider community and out into war-torn France. The discussion eventually led us to some of our own childhood escapades, and it really brought out the giddy side of all of us. This book club meeting was really a blast as the pictures below demonstrate!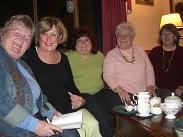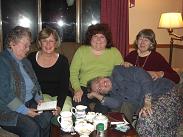 March 14th – I speak for the members of our branch as I extend our sincere appreciation to Phyllis Pfeifer for doing such a fine job as our "Fill-in" Guest Speaker at our March Bagel and Buns Meeting.  Not only did she share her academia accomplishments, but also the pros and cons of starting a business. After retirement, she entered the magical world of jewelry making, and she described her fascination with this creative process.  Phyllis brought a fine selection of jewelry that she makes, and I think that quite a few of our members purchased some of her beautiful baubles. As Phyllis states, "After 31 years of teaching business education subjects, I retired in July 2003. During this time period, I wrote and won many grants to acquire the latest technology for my department. For the two years following my retirement, I became an Educational Consultant. I taught teachers in many schools, from elementary to high school, how to become better teachers using a student-centered approach. It was during this time that I began my jewelry business."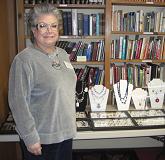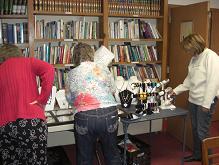 March 5th – On March 5th, fifteen ladies from our branch attended the theater broadcast of the inspiring documentary "A Powerful Noise". The documentary followed the lives of three women from Bosnia, Mali, and Vietnam. In 450 selected theatres throughout the United States, a town hall discussion held in New York City was broadcast immediately after the showing. The panel included Madeline Albright, Nicholas Kristof, Christy Turlington Burns, Natalie Portman, and CARE President and CEO Dr. Helene Gayle. The broadcasts were organized by CARE, a humanitarian organization fighting global poverty with special emphasis on the global plight of women. AAUW supports efforts to help women gain and retain economic independence and self sufficiency.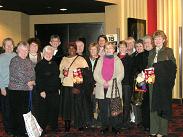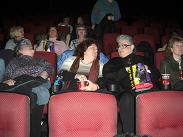 February 2009:
February 17th – The Year of Magical Thinking by Joan Didion was the book for February's Book Club that was held at Lynn Beckmann's home. Didion's husband, the writer John Gregory Dunne, died of a heart attack, just after they had returned from the hospital where their only child, Quintana, was lying in a coma. This book is a memoir of Dunne's death, Quintana's illness, and Didion's efforts to make sense of a time when nothing made sense. "She's a pretty cool customer," one hospital worker says of her, and, certainly, coolness was always part of the addictive appeal of Didion's writing. The other part was the dark side of cool, the hyper-nervous awareness of the tendency of things to go bad. In 2004, Didion had her own disasters to deal with, and she did not, she feels, deal with them coolly, or even sanely. This book is about getting a grip and getting on; it's also a tribute to an extraordinary marriage.


February 7th – Our branch was pleased to welcome Toni Heavener as our guest speaker for our February 7th Bagels and Buns Meeting. She discussed her long time dream to attend college while she was raising her children. In 1977, she began attending Glassboro State College (now known as Rowan University). She had dreams of learning how to make pottery since she was about 12 years old. Toni started throwing pots at Rowan at age 54. After graduating college, she became a Senior Scholar at the University. She volunteered her time in the University's Pottery studio helping the Professor by doing every job imaginable. For the next 15 years, as a Senior Scholar, she helped and taught her fellow students various techniques in pottery. She continues her love of clay by offering classes and displaying her works of art at various craft shows throughout the tri-state area. As Toni states, "Now at age 85, I spend most of my time throwing Pots in my backyard studio and enjoying my grandchildren. I love sharing my knowledge of pottery with my pottery students, performing pottery demonstrations and attending various craft fairs. It's never too late to fulfill your DREAMS!!!!"



January 2009:
January 24th – Several members from our branch were indeed fortunate to attend the AAUW-NJ Issues Meeting on January 24th. Lilly Ledbetter, the woman who inspired the Ledbetter Fair Pay act, was the keynote speaker at the third annual issues conference. The bill, which won Senate approval two days before our conference, had been approved by the House earlier in January. President Obama signed the bill into law at a White House ceremony on January 29th, 2009. Additional speakers at the conference included Drs. Yasemin Besen-Cassino and Mary Gatta who gave an overview of the data on the pay gap including explanations, examples and policy responses. Another highlight of the conference was a workshop on negotiating procedures presented by Leslie Pollack an author and lecturer. Carole Monesmith is pictured with Lilly Ledbetter (right) in the picture.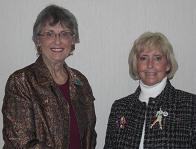 January 13th – We had a wonderful Book Club Meeting on January 13th as we discussed Pearl S. Buck's The Good Earth . We dissected Ms. Buck's life and her timeless, sensitively written 1931 novel. Most of us had previously read it in our earlier years (very earlier years!), but I can speak for myself when I say that I so appreciated the almost lyrical writing, the cultural depiction of China and its people, and the achingly beautiful passions which passed forth on each page. If you have not read this book in awhile, please treat yourself to this Pulitzer Prize-winning novel.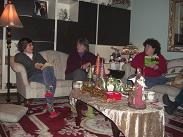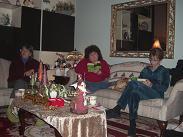 December 2008:
December 13th – Our Branch Holiday Party was graciously hosted by Lynn Beckmann in her lovely home. Each person brought a delicacy to share and indeed, we did! After brunch, we gathered in Lynn's living room, in view of her gorgeously decorated Christmas tree, to share memories from yesteryear, and to sing Christmas Carols and other festive songs.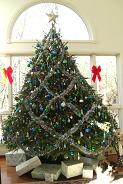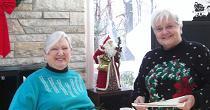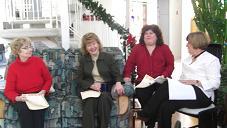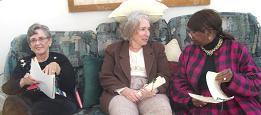 November 2008:
November 25th – Jessica Pierson offered her home for the evening's discussion of Herland by Charlotte Perkins Gilman. On the eve of World War I, an all-female society is discovered somewhere in the distant reaches of the earth by three male explorers who are now forced to re-examine their assumptions about women's roles in society. It is widely considered to be one of the top 100 greatest books of all time. This great novel will surely attract a whole new generation of readers. For many, Herland is required reading for various courses and curriculums. For others who simply enjoy reading timeless pieces of classic literature, this gem by Charlotte P. Gilman is highly recommended. Charlotte Perkins Gilman (3 July 1860 – 17 August 1935) was a prominent American sociologist, novelist, writer of short stories, poetry, and non fiction, and a lecturer for social reform. She was a utopian feminist during a time when her accomplishments were exceptional for women, and she served as a role model for future generations of feminists because of her unorthodox concepts and lifestyle.


November 8th – We were delighted to host Ms. Priscilla Orr as our guest speaker for our November Bagels and Buns Monthly meeting. She is a distinguished, celebrated New Jersey Poet, and also the Acting Dean of Sussex County Community College. Ms. Orr has one published book of poems and is currently working on another book. I heard it through the grapevine that many of our members plan on buying her released book; her poetry is simply moving and emotional.

October 2008:
October 28th – Our Independent Film Evening, Iron Jawed Angels, had to be cancelled due to snow. We will reschedule this important film, which depicts the agony, tragedy, and victory of the suffragists who fought for women's right to vote, because it is an important film to watch and to discuss.

October 18th – Our first Bagels & Buns Meeting was held in the Sparta Methodist Church at 10:00. Most people were lively and awake for our first morning meeting. However, my sister Susan and I are not morning people, so I speak for myself when I say that I was trying to act lively and awake! We had a wonderful guest speaker, Ms. Donna Delvalle, who is the Executive Director of SEED Corp. SEED stands for Start Easy Eagle Development. Her central topic, "Housing for Mentally Disturbed and Previously Homeless and why it is Important to AAUW" was truly inspiring to all who attended this meeting.



October 7th – Our October Book Club Meeting was held at Carole Monesmith's home on Tuesday, October 7th at 7:00. The book that we discussed was Class Action: The Story of Lois Jenson and the Landmark Case That Changed Sexual Harassment Law by Clara Bingham and Laura Leedy Gansler. In 1975, Lois Jenson became one of the first women to work in the iron mines of Minnesota and the lead plaintiff in the lawsuit. Eveleth Mines was Jenson's employer. The center of the story is the 25-year ordeal Jenson and other women miners underwent: the harshness and callousness of the abuse directed at the women in the uncivilized and misogynist atmosphere of the mine will outrage readers. The equally brutal treatment that class members received in the civilized venue of the federal court system, especially by the lawyers for Eveleth, will shock them. This book opened our eyes regarding women's plights, and the discussion that this book garnered was robust and mind-provoking to say the least.


September 2008:
September 13th – After a lovely summer respite, our members gathered at Homer's Restaurant in Sparta for a wonderful Welcome Luncheon and Meeting. We were fortunate to have AAUW-NJ's State President, Ginny Lyttle, as our guest speaker. Ginny's remarks focused on her vision of the future of AAUW. She is a gifted speaker, interesting and informative as well as humorous. We also gained a new member, Ms. Connie Fadden, so all in all, it was a grand day!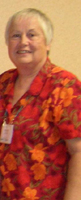 Below are descriptions of past 2007 / 2008 branch activities:
July 2008:
July 1st – The third installment of the Suze Orman financial seminar was held at Carole Monesmith's home on July 1st. We discussed the various aspects of Retirement Investing. Every month we glean more and more knowledge and insight into taking care of our business…money business, that is. Each month, we also get new ladies joining our group to discuss Suze's Women & Money Audio book. As one of our new members said, "I really enjoyed the meeting on Women & Money last night! Suze Orman has a very inspirational story herself and I believe she has a lot of valuable information to share. It's amazing how even with all the educational information available to the public this is still not a part of the regular curriculum for students. It's almost as if everyone has to learn the hard way! Imagine if this training began in middle school!" Thanks, Jessica…That about sums it up doesn't it?!?

June 2008:
June 24th – Carole Monesmith hosted the monthly book club meeting as we discussed Mexican culture and customs. Caramelo is a 2002 novel by American author Sandra Cisneros . It was inspired by her Mexican heritage and childhood in the barrio of Chicago, Illinois. The main character, Lala, is the only girl in a family of seven children and her family often travels between Chicago and Mexico City. Because Cisneros also has six brothers and her family moved frequently when she was a child, the novel is semi-autobiographical. The novel could also be called a bildungsroman, as it focuses on Lala's devel opment from childhood onward. The group focused mainly on the intriguing culural depictions, which Ms. Cisneros vividly shared with her readers. It was also suggested that other novels by this talented author would be very worth the read!

June 14th – Sally Larson graciously offered her home again for the 2 nd Annual AAUW Picnic on Saturday, June 14 th. The weather "held-out", so to speak, and although it was somewhat overcast, the rain did not begin until later that evening. We had a wonderful time just relaxing and letting-go: letting the lush landscape, beautiful memories, and lasting friendships take over for an afternoon's delight.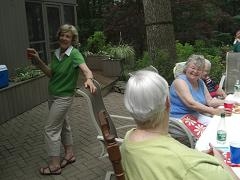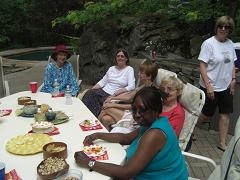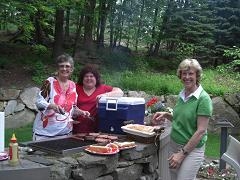 May 2008:
May 19th – Wow, what a night! Some people think that book clubs are boring…well, not ours! Each month, we usually read the same book, but Carol Holmelund had a good idea at the organizational meeting; to critique an author rather than a book. So, in May, we each selected a different book that was written by Anne Perry. Sounds easy enough, right? Wrong! The evening became chock full of discussions surrounding moral issues, redemption, psychology, legality, societal concerns, and maturation to name but a few bumpy roads upon which we traveled. Juliet Hulme was born on October 28, 1938, in Blackheath, London, England. She is a British historical novelist and a convicted murderer at the age of 15 (see also Parker-Hulme murder). To quote Ms. Perry, "I was born Juliet Hulme, but after the tragedies and errors of my childhood, about which I have already said all there is to say, I took my stepfather's name of Perry, and Anne Perry is not a pen name but my legal and only name." Most of our book club members said that they would continue to read her books regardless of her sordid past. One member (guess who!) said that she would never read one of her novels again, and if she had known about her past before reading the one and only book that she did read, she would not have read it. You read Anne Perry's biography and make your own decision!!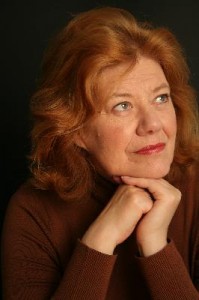 Ms. Anne Perry
May 17th – We had a nice turnout for our Spring Annual Meeting and Luncheon, which was held at Bella Italia, in Newton, on May 17 th. Guest speaker, Mare Galeos, was the 2008 recipient of the Virginia Randall Scholarship at SCCC. Revealing humor coupled with sincerity, Mare explained the emotional rewards of receiving our branch's scholarship. After enjoying our delightful luncheon, the 2008-2009 officers were unanimously elected during our regular meeting. The new board members and department chairs are as follows:
President: Carole Monesmith
Program VP : Gail Swain
Membership VP : Diane Crawford
Secretary: Lynn Beckmann
Treasurer: Sue Green
LAF and EF : Sally Larson
Liaison to AAUW/NJ : Sally Ann Goodson
Publicity Chair: Margaret Anderson
Hospitality Chair: Margaret Anderson
Past President: Margaret Anderson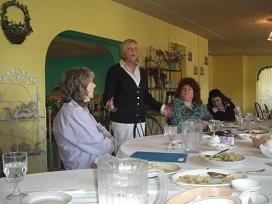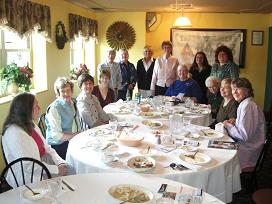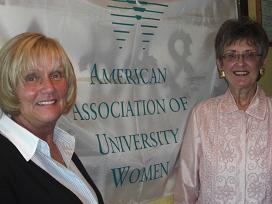 April 2008:
April 29th – Lynn Beckmann was the hostess for The Independent Film Evening on April 29 th. We watched the 2006 remake of All the King's Men starring Sean Penn, Jude Law, Anthony Hopkins, and Kate Winslet. Based on the Robert Penn Warren novel, the movie depicts the life of populist Southerner Willie Stark, a political creature loosely based on Governor Huey Long of Louisiana. The story describes the rise of Willie Stark from a rural county seat to the spotlight. Along the way, he loses his initial innocence, and becomes just as corrupt as those who he previously assaulted for this characteristic. Our group decided that we should have watched the 1949 movie starring Broderick Crawford instead of this remake, which was more interested in showing off actors than in showing off corruption!
April 22nd – It was a small gathering for our April Book Club meeting at Muriel Everhart's home, but we had a nice time, good refreshments, and ample discussions of western life. The book for the evening was Doc Holliday's Woman by Jane Candia Coleman, a mix of Western fact and fiction. Muriel had other non-fiction books with pictures of Doc's "woman", Kate Elder, and various locales of the era which greatly added to the visual appeal of this interesting woman-before-her-time.
April 19th – The April Luncheon and Meeting were extremely successful, entertaining, informative, delicious, and –yes – fun ! The turnout was great, including high school ladies, guests from the community, and relatives of our members. Our guest speaker, Feather Schwartz Foster, took us back in time to the White House days of President Woodrow Wilson. She provided an in-depth view of his two wives; Ellen Axson and Edith Bolling Galt, detailing the ways that circumstance and coincidence affect history.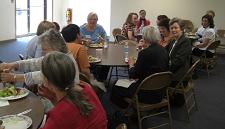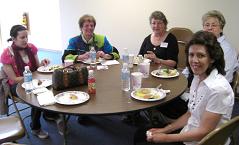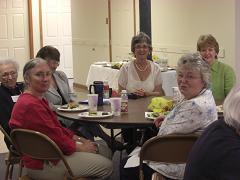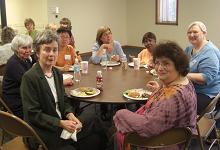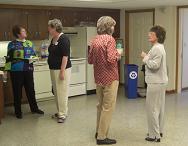 April 5th – The branch held its annual Garage Sale at the Sparta Ambulance Building on April 5th between 8:00 and 2:00. This annual fundraiser raises funds for local scholarships, the national AAUW Education Foundation, and AAUW Legal Advocacy Fund. This year's net gain from the event was $462.63.

March 2008:
March 11th – The March Branch Meeting, held at the Sparta Methodist Church, was highlighted by our guest speaker, Ms. Martine White. Our members and guests brought various antiques that were appraised by Ms. White. In addition to offering interesting detailed information about the manufactured processes of most items, she discussed insurance details, which proved interesting to her audience. The proceeds of the appraisals, in the amount of $97.00, benefited the Education Foundation.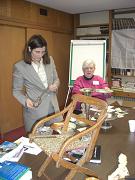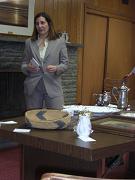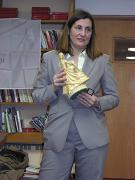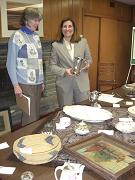 February 2008:
February 19th – The first Women & Money Evening (W&ME) was held at Carole Monesmith's home on February 19 th. The "Financial Seminar", consisting of Five (5) Financial Discussion Meetings, will meet once a month for five (5) months. The monthly Women & Money meetings are based on the fabulous NEW SUZE ORMAN audio book entitled WOMEN AND MONEY. It is NOT just a "do this and do that" book. It seriously discusses the empowerment of women with regards to money, asking for pay raises, considering your worth, etc. It closely parallels the equity gap issue, but it goes into ways that YOU can personally get control over your own financial worth so that you can and will narrow the gap. It is a powerful program that allows women to be more powerful!!
The remaining programs are:
MONTH TWO: Credit Cards and FICO Credit Scores – scheduled for Tuesday evening, March 18th, at 7:00. Location is Carole Monesmith's home
MONTH THREE: Retirement Investing
MONTH FOUR: Must-have Documents
MONTH FIVE: Protecting Your Family and Home
Suze Orman suggests: "If money is the difference between a future of security and comfort and a future of doubt and fear; if money is a major factor in your personal happiness; if money is a reflection of how you value and perceive yourself… why don't you take better care of your money?"
The next Women & Money Financial Evening is scheduled for Tuesday evening, March 18 th. The location and time is Carole Monesmith's home at 7:00pm.

February 16th – Our branch's Winter Luncheon and Meeting were delightful, educational, and extremely interesting. Our short business meeting was followed by broccoli and spinach quiches, garden salad, and delectable desserts. After the delicious luncheon, Muriel Everhart, our very own AAUW Life Member, presented an informative workshop on genealogy – with tips, forms, resources, information, and anecdotes. We received some fresh perspectives and ideas for tracking down our lost family member(s). Following her presentation, AAUW members and guests proceeded to create their individual Family Trees. When one of us was "stuck", Muriel offered each person significant suggestions to locate relevant information. One of the unexpected results of the afternoon workshop was the sharing of memories of families and friends.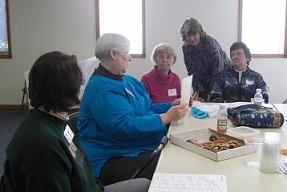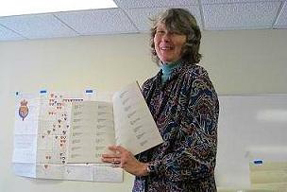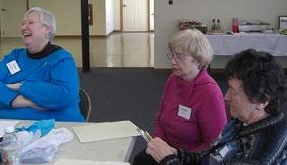 February 9th – The book of the month, Atlas Shrugged, was discussed in quasi-detail at Carole Monesmith's home. One could devote years to discussing the philosophical system that Ayn Rand called Objectivism. We devoted 3 hours to it so we barely touched the tip of the iceberg. Since her controversial ideas have attracted both enthusiastic admirers and scathing denunciation, it is not surprising that our book club members had different opinions. In fact, it was quite wonderful that such was the case! According to a 1991 Library of Congress report, it is considered the second most influential book after the Bible in the lives of its readers. [I forgot to tell the group that tidbit…I bet that really would have sparked some heated remarks!] A complex combination of mystery, love story, social criticism, and philosophical concepts, the 1,100-page novel embodies the author's passionate celebration of individualism, free will, capitalism, logic, and reason.

January 2008:
January 29th – Lynn Beckmann graciously offered her home and large television (!) for our first Independent Film Evening. 1948's The Bicycle Thief with Italian subtitles was the film for our viewing pleasure, complete with soda and popcorn. It is a tale of Rome 's post-World War II depression that earned a special Oscar for its devastating power. Although it is widely considered a landmark Italian film, it left us wanting more. Antonio relies on his bicycle to do his job, but the same day that he gets the vehicle back from the pawnshop, someone steals it. Antonio and his young son, Bruno, search the city in vain, as Antonio confronts a looming desperation. Personally, I feel that the message of this film was that of moral conviction. It is easy to say that one has respectable morals, but it depends on whether one's morals have been tested. In this regard, the father who lost his bike was tested and pitifully failed the test. His failure was compounded because his actions were witnessed by his son. If you are someone who wishes to spend an hour and 20 minutes watching a man and his son look for a bicycle, this film is definitely for you!

January 12th – Stevie' Fava's home was the perfect setting for the book club as we discussed Eat, Pray, Love: One Woman's Search for Everything Across Italy, India and Indonesia by Elizabeth Gilbert. The "soul-searching" memoir is divided into three sections, each containing 36 quasi-vignettes, hence a vignette for each of the 108 beads of a japa mala; a necklace which is used as an aid in many strands of Eastern meditation.  After a severe depression, she decided to take a year off and to go on a spiritual journey: 4 months in Italy for sheer pleasure; 4 months in Italy to enter an Ashram, meditate, and be one with the universe; and 4 months in Indonesia (Bali) to learn how to balance the two (pleasure and divinity).  Some of our members loved it, and some ladies thought that the book was a memoir of a self-centered young lady's journey around the world. Totally mixed views of our heroine were uttered such as, "She is just an American spoiled brat!", "How wonderful to want to find yourself and the Divine as she did!", "She is very self-centered, isn't she?"  I thought that she ventured forth where no man (or woman!) ought to tread, but no one probably agreed with me. Needless to say, after being printed in over thirty (30) languages and a #1 best seller for months and months, it is being made into a movie with good old Julia Roberts wearing the beads.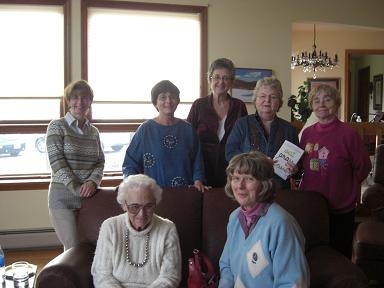 December 2007:
December 17th – As book club members drank cups of tea at Susan Paynter's lovely Victorian home, they shared a vibrant discussion of the book, Three Cups of Tea: One Man's Mission to Promote Peace… One School at a Time by Greg Mortenson. The book prompted discussions of our role helping other women around the world, the importance of education, and the dangers faced by the "hero" of the story as he struggled to build schools despite difficult terrain and complex local customs. Donna Peemoller, a friend of Susan Paynter's joined the discussion and offered great insight on the main character and his long time interest in making a difference in the world.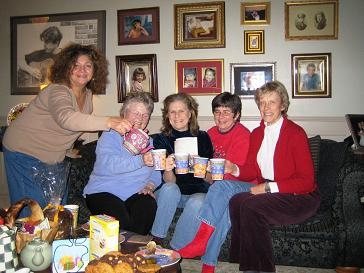 December 5 – The Sussex County (NJ) branch of AAUW has long been a contributor to the Sussex County Community College Foundation. An annual scholarship is presented to a Sussex County woman majoring in the arts through the Virginia Randall Scholarship for the Arts. This year's recipient, Ms. Mary Galeon, majoring in Literature, was presented the award at the SCCC Scholarship Award Ceremony on December 5, 2007. Present at the ceremony were Ms. Trudi Randall , daughter of Virginia Randall, Margaret Anderson, AAUW-Sussex County Branch Scholarship Chair, and Carole Monesmith, President of AAUW Sussex County Branch.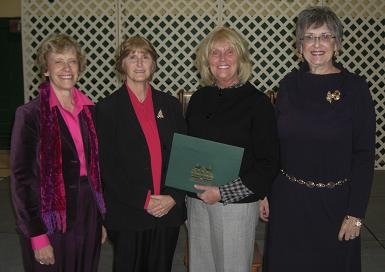 December 3 – The Sussex County (NJ) branch of AAUW has long been a supporter of the Sussex County Community College. With this history of cooperation, college president Dr. Constance Mierendorf presented Carole Monesmith, AAUW-Sussex County branch president, a certificate proclaiming December 3, 2007 the American Association of University Women Day on the Sussex County Community College campus.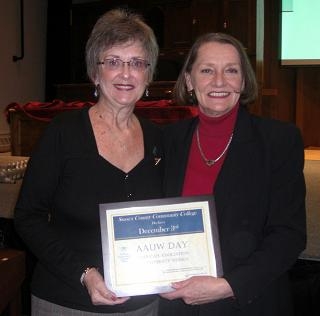 December 1 – We celebrated our Membership Brunch and Holiday Party on December 1st. The US representative for the Faberge family, Ms. Kathleen Kerr, amazed us by sharing the remarkable history of the Russian Czars and the Eggs that were designed for them during that era by Peter Carl Fabergé. Kathy delighted us by showcasing 3 contemporary designs from the St. Petersburg's Collection. Her impressive presentation enabled our members to glimpse the past, present, and future direction of this most remarkable Faberge company. For additional information, please visit http://fly.hiwaay.net/~christel/index.html and/or the US website for the art of the Faberge Family www.fabeggs.com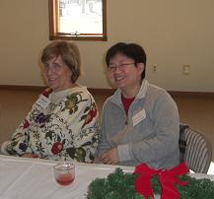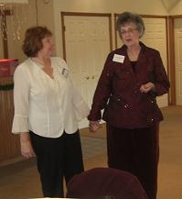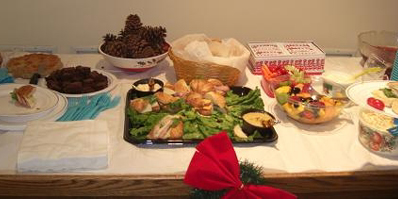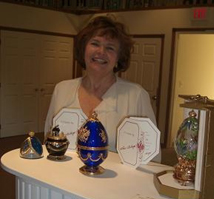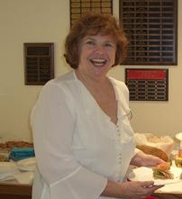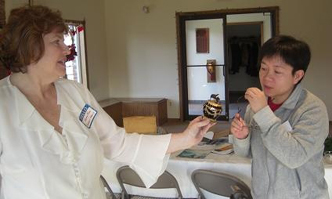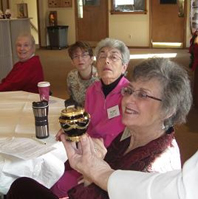 November 2007:
November 26 – Carole, Muriel, and Margaret met with Ms. Jessica Seda, a freelance writer for the New Jersey Herald on November 26 th at the Dennis Library in Newton. Ms. Seda plans to write an article for the New Jersey Herald about our Sussex County branch and the new study that was recently released by AAUW regarding gender pay gaps. This article will coincide nicely with our distribution of the study, Behind the Pay Gap, to all of the libraries in Sussex County.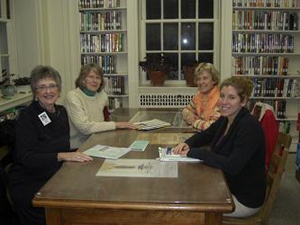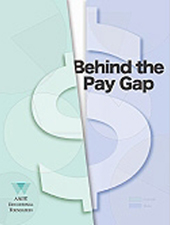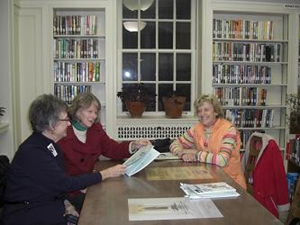 November 13 – The Sussex County branch has been in existence since 1947. We held our 60th birthday party, celebrating this milestone on November 13, 2007. We enjoyed a fabulous skit, which highlighted activities of our branch's 60 years; we devoured a delicious birthday cake; and we reminisced with friends. Just think, women similar to us have been investing time and energy, making friends, and reaping the benefits of belonging to this fine association since 1947.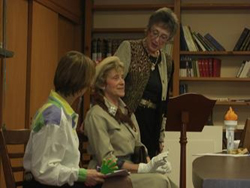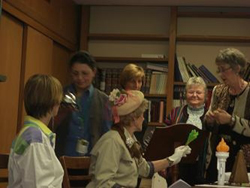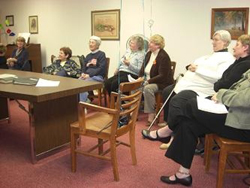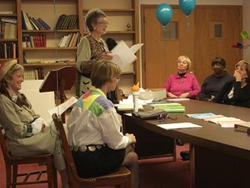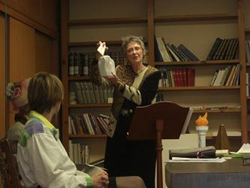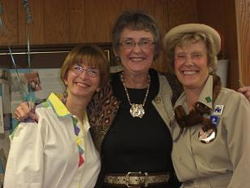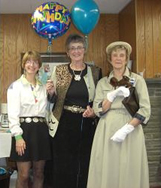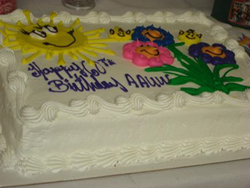 November 17 – The Book Club met at Gail Swain's home on Saturday, November 17th to discuss Jane Austen's Sense and Sensibility. Gail treated the group to a fine English Tea; complete with scones, tea sandwiches and luscious desserts. A lively discussion arose while discussing the mores of today vs. the mores of yesteryear because, as expected, the established customs portrayed by Jane Austen were astonishingly different than today.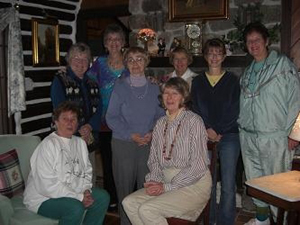 October 2007:
October 30 – An on-going motif of AAUW is "because equity is still an issue".  Since 1913, in fact, when AAUW released a comprehensive report detailing disparities between men and women's pay in federal government jobs, AAUW has been working to eliminate pay inequity.  A new research report states that pay gaps exit between women and men as early as one year out of college.  Unfortunately, New Jersey ranks 49 th out of the nation.  This month, to heighten awareness of this issue, our local branch presented the new publication, Behind the Pay Gap, to the six libraries within the Sussex County Library System, to the Sparta Library, to the Sussex County Vo-tech library, and to the Sussex County Community College library.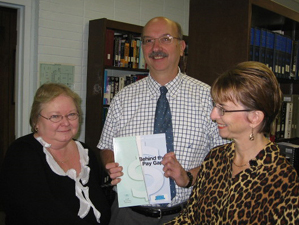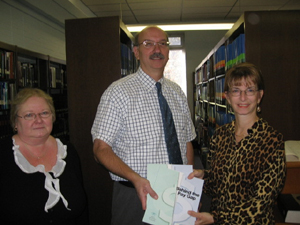 October 27 – For a delightful twist, the Sussex Highlands League of Women Voters, a political but non-partisan organization, treated our AAUW members and guests to a delicious luncheon at our October 27 th Meeting and Reception for Dr. Constance Mierendorf, the new president of Sussex County Community College. She presented her views of the current enrollment and activities of the college and her vision for the future direction of SCCC. With a spirit of mutual camaraderie, a framed "AAUW Honorary Membership" was presented to her on behalf of our AAUW Sussex County Branch board and its members. In addition, the new publication, Behind the Pay Gap was presented to Dr. Mierendorf to include in SCCC's Library.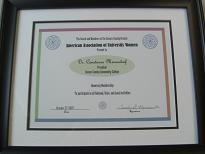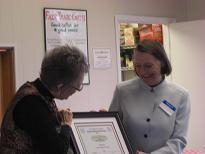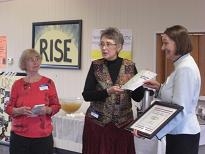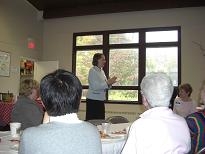 October 23rd – Lynn Beckmann was the hostess for our October Book Club get-together. The supernatural genre, The Green Mile by Stephen King, induced much discussion. An interesting statement that was uttered by quite a number of ladies was, "I didn't think that I would like Stephen King, but I really enjoyed this read!" That is precisely what is so great about a book club. One is introduced to various and often unfamiliar types of books and/or authors.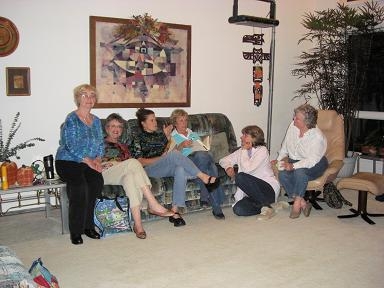 September 2007:
September 18 – While discussing The Peabody Sisters by Megan Marshall, we concluded that these ladies were progressive for the times within they lived.   As the title of Ms. Marshall's book suggests, these three women successfully ignited American Romanticism.  Although the three sisters lacked wealth, they accomplished many societal changes.  Indeed, these ladies lived the life that AAUW promotes; equity for all women and girls, lifelong education, and positive societal change.
We outlined the direction of the Book Club for the 07-08 year.  First, we selected various genres, and from that list, we picked novels of interest to each one who was present.  We decided that the member who selected a certain author or book would host the evening or Saturday meeting at her home.  We tried to schedule Saturday, daylight meetings during the winter months to avoid hazardous driving conditions at night.
Our hope is that the following list of books and authors will interest other AAUW friends to join our Book Club.  There are only two requirements: to enjoy lively discussion and to RSVP to the hostess that you are planning to attend.
This list of books is a great, varied selection.  If we continue each year with this type of format (1. genre  * 2. favorite book*/ author), we will be extremely well read women with interesting thoughts and ideas to share with those who wish to listen!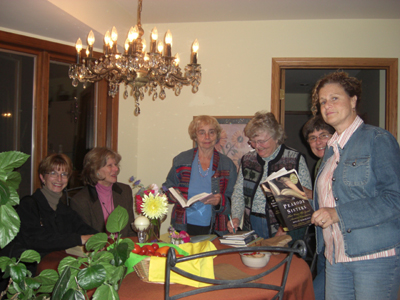 All of the books are readily available at www.amazon.com. Another website to look at is www.alibris.com.
Future book club meetings:
Tuesday, October 23rd – Lynn Beckmann's home at 7:00: The Green Mile by Stephen King ( Supernatural )
Saturday, November 17th – Gail Swain's home at 12:30: Sense and Sensibility by Jane Austen ( Period Novel )
Monday, December 17th – Susan Paynter's home at 7:00: Three Cups of Tea : One Man's Mission to Promote Peace . . . One School at a Time   by Greg Mortenson ( Non-fiction )
Saturday, January 12th – Stevie Fava's home at 12:30: Eat, Pray, Love: One Woman's Search for Everything Across Italy, India and Indonesia by Elizabeth Gilbert ( Humor )
Saturday, February 9th – Carole Monesmith's home at 12:30: Atlas Shrugged by Ayn Rand ( Philosophical )
Saturday, March 15th – Lynn Beckmann's home at 12:30: Watership Down : A Novel  by Richard Adams ( Fantasy )
Tuesday, April 22nd – Muriel Everhart's home at 7:00: Doc Holliday's Woman by Jane Candia Coleman ( Western )
Monday, May 19th – Carol Holmelund's home at 7:00: Author Discussion… any novel by Anne Perry ( Mystery )
Summer Reading – A Fine Balance by Rohinton Mistry ( Fiction )
Come and join us!
September 15 – Our Sussex County Branch kicked-off the 2007-2008 year on September 15th.  The Welcome Luncheon was held at the Bella Italia Restaurant in Newton.  The productive meeting included members who actively suggested new and exciting activites for this year such as the Independent Film Evening.  AAUW/NJ liaison guest speaker, Sally Ann Goodson, shared information from the state association.  She also related the impact of AAUW upon her life and work.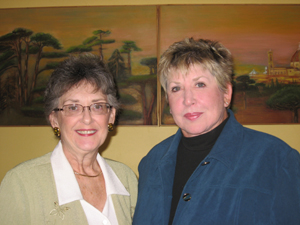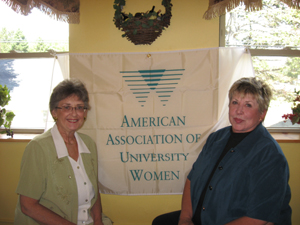 Below are descriptions of past 2006 / 2007 branch activities:
June 2007:
June 7 – Picnic Pictures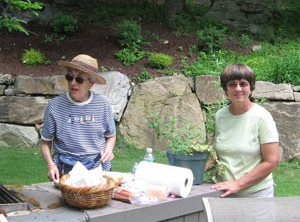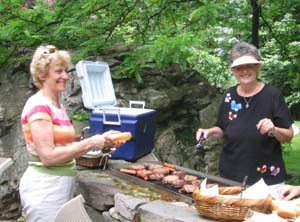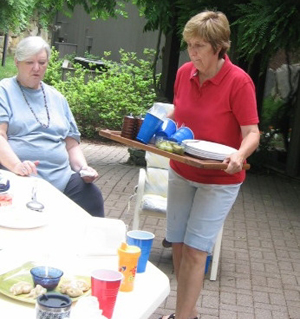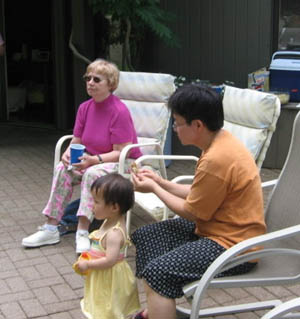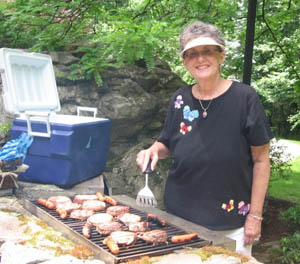 May 2007:
May 19 – The 2007-2008 AAUW Sussex County (NJ) branch officers were elected on May 19, 2007.
Our branch Annual Luncheon and Meeting took place at the Tuscany Bistro in May. Our guest speaker, Adrienne Lesser, discussed the ever-escalating crime of human trafficking. The national and state statisitics are staggering for this horrific crime. New Jersey is in the forefront by creating a Task Force to tackle crime-related activities in the state.
At the branch annual meeting on May 19th, those present voted to use garage sale money to meet our annual obligation to the AAUW Educational Foundation and Legal Advocacy Funds.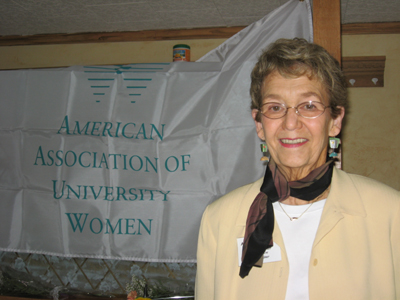 April 2007:
April 14 – AAUW-NJ Annual Meeting was held at the Forsgate Country Club in Cranbury, NJ.  The Sussex County Branch was one of four branches in the entire state of NJ that received a Certificate of Honor in recognition of its increase in Membership.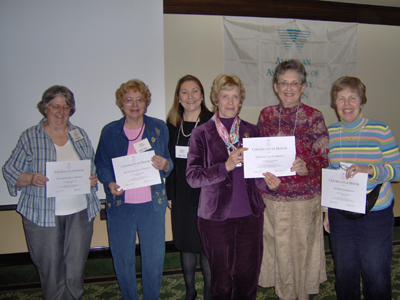 We experienced the wonderful world of yoga at our April meeting. Susan Helmstetter, a gifted yoga teacher, demonstrated the art of chair yoga, and we thoroughly enjoyed our newly learned activity. Chair Yoga was introduced to our branch members during one of our monthly meetings. Some members showed interest in pursuing this activity as a regular exercise program. After our lesson, we enjoyed a delicious Cobb salad and a light dessert. We became curious as to the origin of Cobb salad, so google came to the rescue!
March 2007:
At our March program, titled "Young People Helping Young People; International Connections", Mary Rapuano and guests from the Spanish Cultural Club at Sussex County Technical School spoke to members of our branch about their experiences in the Dominican Republic where they have been distributing supplies to schools and families. Mary Rapuano and Spanish teacher, Fatima Yensel, initiated this project four years ago.  Its goal was to form stronger ties with young people in Latin American. The Spanish Cultural Club collected school and medical supplies, toiletries, and clothing for children in the Puerto Plata region of the Dominican Republic.  During their November school break, the Club and advisors personally delivered those supplies and met children of the Dominican Republic.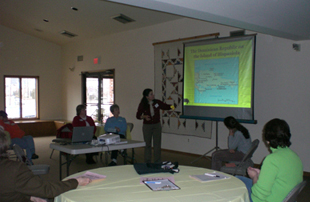 March 31 – Our Garage Sale was a huge success as we netted $895.90. The Sparta ambulance building is a perfect place to hold the sale. Manys thanks go to Mary Hookway and her husband Jeff for moving a lot of items to the building and then disposing of unsold goods. Thanks, also, to those of you who contributed time and/or items for the sale.
February 2007
Our February meeting focused on "Women in the Arts". Members who wished to participate selected a woman artist, presented a short biography, and included examples of the artists' works.
January 2007
Jan. 27 – Brookdale Community College in Lincroft, NJ was the setting for a day-long conference addressing national and statewide criminal activities of human trafficking. The conference, held on Jan. 27, 2007, was sponsored by  AAUW- NJ with a grant from its national group.
December 2006:
Our branch enjoyed a lovely holiday luncheon in December. In addition to all of the holiday pleasures, prospective members and guests were invited to learn more about AAUW. Our NJ State President, Virginia Little visited our luncheon and shared many informative state and national issues.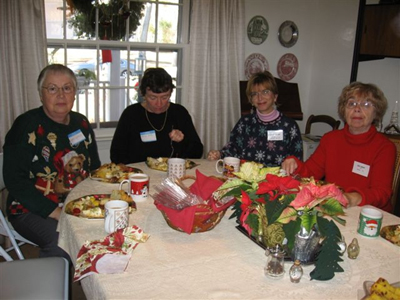 November 2006:

November 14 – The Sussex County (NJ) branch of AAUW has long been a supporter of the Sussex County Community College. It has sponsored field trips for middle school girls to the college to assist them in discovering educational opportunities here in Sussex County. They have provided scholarships for Sussex County women majoring in the arts through the Virginia Randall Scholarship for the Arts. With this history of cooperation, college president Mr. Harold Damato proclaimed November 14th the American Association of University Women Day on the Sussex County Community College campus.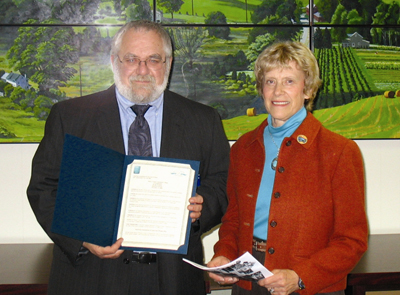 Harold Damato, Sussex County Community College president and Margaret Anderson, former co-president of the Sussex County (NJ) branch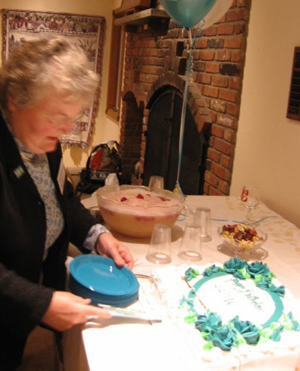 November 14 – In November, the national organization of the American Association of University Women (AAUW) celebrated its 125th anniversary.  Our Sussex County Branch planned a birthday bash to commemorate this milestone on Nov. 14, 2006.  Guest Speaker, Dr. Yana Rodgers, Associate Professor of Women's and Gender Studies at Rutgers University addressed the topic, "Our State's Secret has Surfaced…Children are Hungry in New Jersey, Women Can Make the Difference by Addressing this Issue".   Economist and researcher in gender issues; Dr. Rodgers discussed how women could bring solutions to this problem.  Her recent research examined child well-being and food assistance to children who are experiencing hunger in the United States. She talked about this topic in the New Jersey context and addressed what women could do and are doing as policy makers and local leaders address these needs.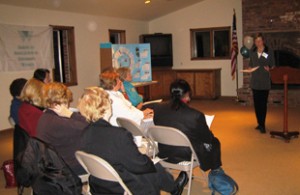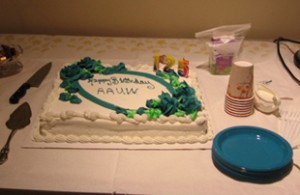 Our October guest speaker was Ms. Jennifer Whitlock. She presented poignant information about a program, Girl's Rule, sponsored by St. Clare's Hospital in Sussex, NJ. Jennifer's presentation, "Empowering Girls in Troubled Times" was eye-opening, informative, and greatly appreciated by our members.
September 2006:
The Spring House was the setting for our Welcome Luncheon in September. We enjoyed book reviews that were presented by our members who wished to share their favorite summer novel.