Activities is a great place for our new publication of The SCB Newsletter and Program & Event Reports
  If you have a Sussex County Branch newsworthy story to contribute please contact editor Michele Guttenberger – mguttenb@optonline.net
Please click on the file name below to open the newsletter.
Oct – Nov 2014 Issue 2 Newsletter
Please click on the file name below to open the report
Report of Apr 2015 SCCC $tart $mart Events
Future AAUW Sussex County (NJ) branch activities are listed in the branch calendar. Vist our About AAUW page for general information about our branch's activities.
---
---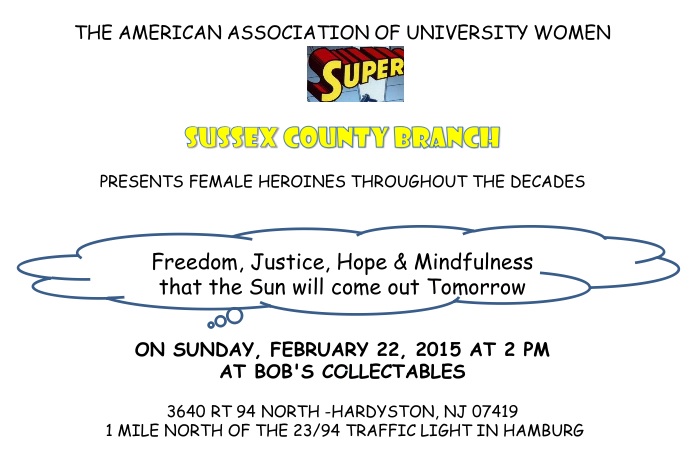 We had an  interesting presentation that was open to the public with a perfect  location for the theme of this event.  Bob's Collectables  was able to  draw a diverse group of people interested to learn about empowering female icons of leadership and heroic virtue and also get to discover the work that is done at AAUW within their own community,    AAUW SBC Membership VP  Linda Adams gave an expert discussion along with the staff of Bob Collectables – Bob Adams and Sean Hardy.  Branch President Michele Guttenberger tied all this great information together with a quiz.  We were amazed how this program brought out many young female comic book fans in the area.  We were pleased that that a young woman attending college would be the winner of our AAUW program quiz and be awarded the Stargirl action figure.  Both men and women attended this event and had great interest about the transformation of female comic book characters over the decades.  Another icon of female leadership  also presented was  minted coins and currency.  This lead to an interesting topic on women's history.
View our slide presentation below and take the quiz.  See how much you know about Female iconic figureheads of empowerment, leadership and virtue. 
Combined COINS – COMIC BOOK HEROINES THROUGHOUT THE DECADES
---
---
We are proud to announce our collaboration with
Sussex County Arts & Heritage Council
Gallery Show
" From a Women's Perspective" October 11 – November 1, 2014. 
This was a  milestone partnership for AAUW-NJ SCB  because, SCA&HC (Sussex County Arts & Heritage Council) is not just an art gallery group.  It is an official county agency that is connected with the NJ State Council on the Arts/Department of State and a partner agency of the National Endowment for the Arts.  AAUW-NJ SCB  was able to co-sponsor an exceptional show that offered  open enrollments even to  non SCA&HC member artists so that any female artist could participate.  It is equally important to support women in the Arts as well as Science Technology Engineering & Math –STEM.   The arts should also be promoted because it inspires innovation.   With the "A" in Art ,  women now have the STEAM to advance ahead.  The gallery opening night reception was held October 10th.  Besides viewing a women's perspective, we got to listen to divine music from women's voices in harmony.  Twenty two female artist submitted their work and two talented entrants from AAUW submitted their masterpieces – Carol Homelund and Linda Adams.
  Read the news on our event    View the photo album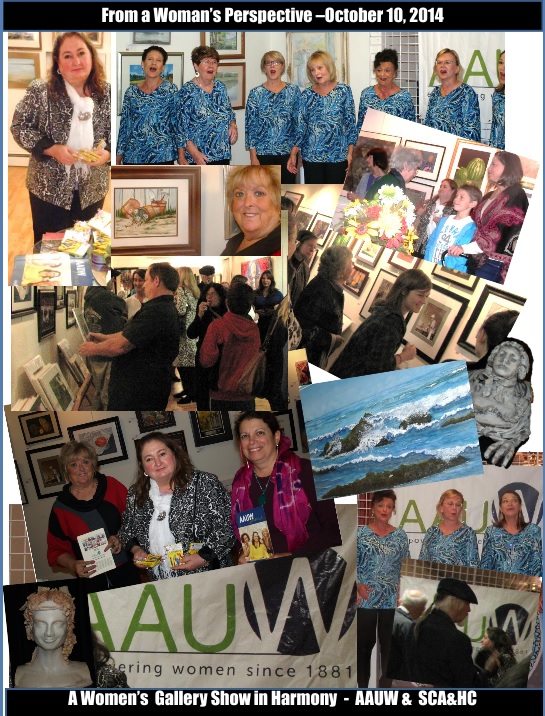 C
O

L

L

A

B

O

R

A

T

I

O

N

– TEAM MCNJ & AAUW-NJ SCB

Collaboration is MCNJ Motorsports Club of North Jersey  (the oldest operating club in NJ that still follows in authentic Mustang Club traditions) and AAUW-NJ Sussex County Branch (a branch that has  advocated empowering women and girls on the roads ahead since 1947),  sharing a worthwhile cause .  Together these two teams have collaborated on a  very novel fundraising  event for AAUW that uses Sussex County's beautiful and scenic rural roads.  This year's road "Rallye" was called "It must be a sign" .  Twelve car teams consisting of drivers and navigators from diverse age and gender felt supporting AAUW Educational Funds and Scholarships was worth the drive.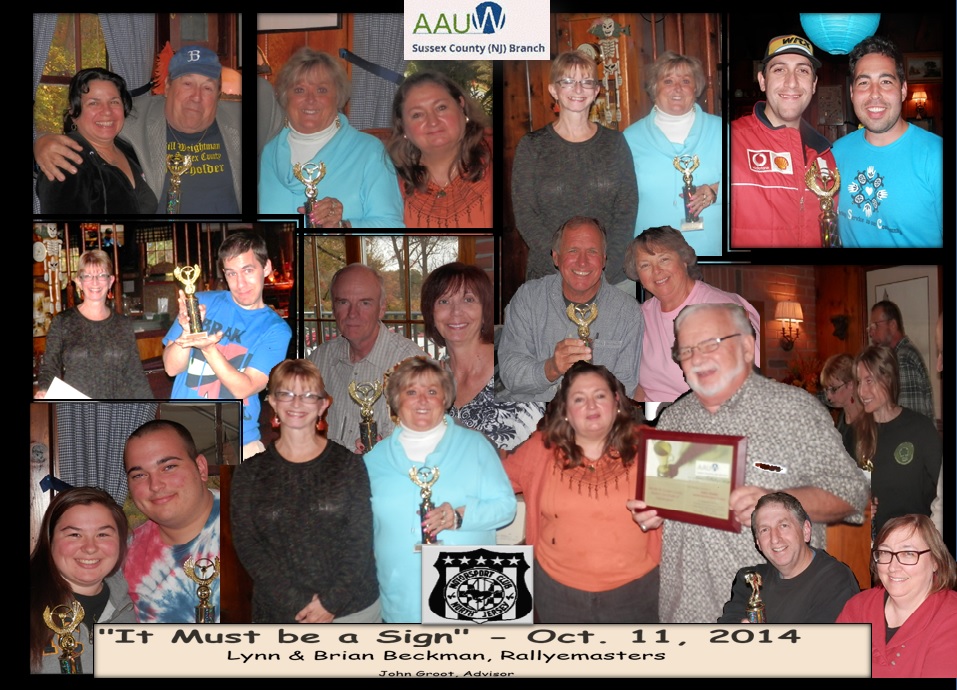 Thank you Motorsports Club of North Jersey
John Groot
&
AAUW & MCNJ Member
Lynn Beckmann
for the many years of Rallye Event fundraising
Read the news about this great team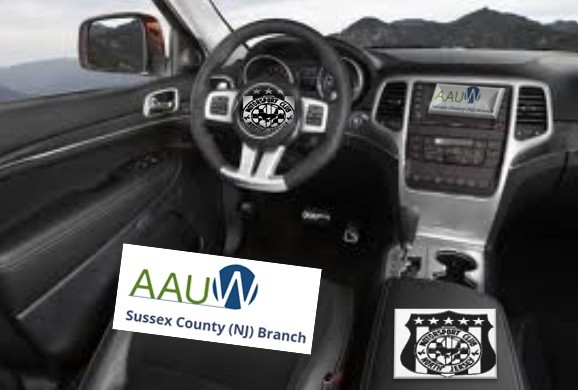 ---
AAUW-NJ Sussex County Branch Digs STEM Education at Sterling Hill Mine Museum
Our guide William Kroth ( President  & CEO)  of the center provided twenty attendees an excellent presentation of  the STEM education work they are doing. The museum offers such exciting hands-on introduction to geology and mineralogy to pique a young mind to seek out further study in engineering and science.  Equally impressive is the genuine on site  learning experience of  viewing a once active New Jersey zinc mine which depicts  the actual work life of a miner that is both local  and recent history.  AAUW branch member Linda Adams was able to  inject  her  personal story of her father's office position translating to the workers in their native language at the mine.  It was an genuine up close and personal  knowledge exchange .  Our tour guide promoted insightful discussions on the environment, cultural, social and economic issues on mining.  Few of us knew how much mining impacts all these areas.  We also connected AAUW's history to an element on the Periodic Table with our own quiz where many of the answers  can be found on their interactive webpage too  http://sterlinghillminingmuseum.org/periodictable/index.php
Here is the quiz:
Sterling Hill Mine Tour Quiz A
View our Photo Album http://www.photoshow.com/watch/Hr7Hk7Yy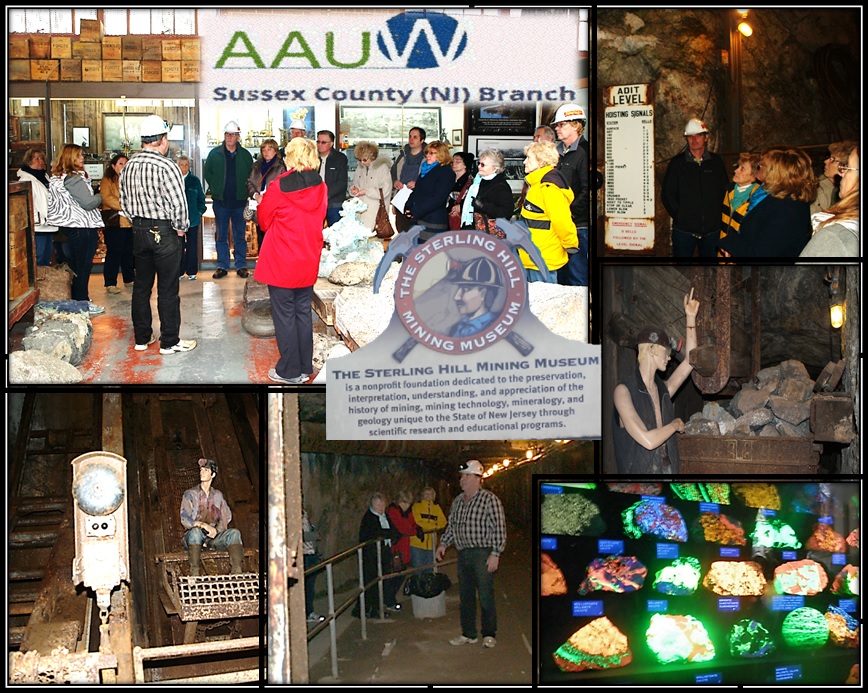 ---
---
---
September 2013 – June 2014 :
June 15th – Our 7th annual picnic at Sally Larson's home was so much fun. Sally pulled out all the stops to make it a wonderful day for all of us. The weather was great, the food was outstanding, and the friendships were shared to make for a perfect day.
June 9th – 12th –The AAUW National Convention was held in New Orleans, Louisiana
The June Film Night attendees previewed Ladies in Lavender staring Judi Dench and Maggie Smith.
May 2013:
May 18th – The Branch Annual Meeting and Luncheon was well attended at the Main Street Grille, in Andover, NJ. Our Scholarship recipient is usually the guest speaker, but she was unable to attend the event. The election of officers for the 2013-2014 AAUW year occured.
The May Film Night attendees previewed The Queen staring Helen Mirren and Michael Sheen.
In May, the Book Club Members read Off the Hook by Eric Holmelund.
April 2013:
April 20th – Our Monthly Bagels and Buns Meeting was held at the Sparta Methodist Church. Our guest speaker, Dr. Mary Anne Anderl, is the author of Women Soldiers of the Revolutionary and Civil Wars. The book was produced by the Northern Monmouth County branch of AAUW. Her powerpoint presentation, well attended by many guests, was fascinating and the question and answer period was quite active. Following the meeting, our branch treated Dr. Anderl and her husband to lunch at The Lafayette House in Lafayette, NJ.
April 19th – High Point Regional High School's Women in Engineering teacher, Mark Wallace, brought 16 young ladies from his class to tour ThorLabs in Newton, NJ. The tour was sponsored by our branch, under the direction of our STEM Chair, Dr. Mary Rapuano. It was a wonderful day for all involved. It was truly inspiring to see these young women interested in STEM curricula.  Having attended the tour to represent our branch, Lynn Beckmann and Carole Monesmith understood firsthand the importance of AAUW's focus on highlighting and encouraging STEM within the national arena.
April 13th – The AAUW-NJ Annual Meeting was held at the Forsgate Country Club in Monroe Township, NJ.
The April Film Night attendees previewed Strangers in Good Company staring Alice Diabo and Constance Garneau.
In April, the Book Club Members read The Kitchen House by Kathleen Grissom.
March 2013:
March 16th – Our Monthly Bagels and Buns Meeting was held at the Sparta Methodist Church. Our guest speaker was Mr. Mark Wallace who teaches the Women in Enginering class at High Point Regional High School. His presentation was great and encouraged the branch members that STEM was being strongly addressed in Sussex County. As a side note, Mr. Wallace received the 2012-2013 Teacher of the Year Award at High Point Regional High School.
The March Film Night attendees previewed Tea with Mussolini staring Cher, Maggie Smith, and Judy Dench.
In March, the Book Club Members read State of Wonder by Ann Patchett.
February 2013:
February 16th – Our Bagels and Buns Meeting was held at the Sparta Methodist Church. Women Air Force Service Pilots (WASPs) were a trailblazing group of 1,102 civilian female pilots during World War II. To learn more about these incredible women, our branch members viewed the movie The Fly Girls. We had invited Emmy Kline who was one of these honored women, but sadly she had recently died before the meeting.
The February Film Night attendees previewed A League of Their Own staring Tom Hanks and Geena Davis.
In February, the Book Club Members read Life of Pi by Yann Martel.
January 2013:
January 19th – Our Bagels and Buns Meeting was held at the Sparta Methodist Church. Our guest speaker was Linda Zwart who is the person responsible for starting Manna House, the soup kitchen in Newton. She explained her 25 years involvement with helping the less fortunate people of Newton and others in Sussex County.
The January Film Night attendees previewed Erin Brockovich staring Julia Roberts and Albert Finney.
In January, the Book Club Members read The Midwife of Hope River by Patricia Harman.
December 2012:
December 15th –Many of our members enjoyed fun and good times at our Holiday Party at Lynn Beckmann's beautiful home. Everyone brought a specialty for the delicious brunch. so as usual, we overate…but so worth it. Thank you, Lynn!
November 2012:
November 17th –Our Bagels and Buns Meeting was held at the Sparta Methodist Church. Our guest speaker was Marion Cuff who founded The Grace Financial Group in 1987, offering financial planning, investments, insurance, mortgages, cash flow analysis, debt elimination, college planning and estate planning.
The November Film Night had to be canceled.
In November, the Book Club Meeting was canceled due to snow.
October 2012:
October 20th –AAUW-NJ Fall Focus was held at the Forsgate Country Club in Monroe Township.  This is always a lovely day visiting with New Jersey AAUW members, enjoying a continental breakfast, a wonderful buffet luncheon, and the Keynote Speaker – Lisa Maatz from National AAUW.
October 13th – Our Monthly Bagels and Buns Meeting was held at the Sparta Methodist Church. Our guest speaker, Ms. Robynn Meehan who is a facilitator for the NJ School Board Association, highlighted the role of school boards and her role with them. An enlivened question and answer period followed her presentation and it enabled all attendees to be personally involved.
The October Film Night attendees previewed Real Girls Have Curves staring America Ferrera and George Lopez.
In October, the Book Club Members read The Other Boleyn Girl by Philippa Gregory.
September 2012:
September 15th – Our Kick-off Luncheon was at O'Reilly's Grill and Pub on 271 Spring Street in Newton. We had a great time sharing our summer activities. We discussed National AAUW's direction for the upsoming year, and we also learned about the programs that were planned for our local Monthly Bagel and Buns Meetings.
The September Film Night attendees previewed The Biography of Eleanor Roosevelt.
In September, the Book Club Members read Saving Cee Cee Honeycutt by Beth Hoffman.