AAUW Sussex County Branch  began in the minds of a few young women from Newton, NJ.  They were recent graduates of colleges and universities.  Some in this founding group were active in their campus chapters of AAUW.  On June 10, 1947, they elected to become part of the AAUW New Jersey state chapter which was then only 20 years old.  The branch started with 27 members with Emily W. Browne,  Director of the Sussex County Turberculosis and Health League, as their first elected president . The branch's first concerns were the AAUW Educational Foundation Fund and a  girls college scholarship fund for the community's promising high school graduates.  The branch's devoted legacy mission is higher education within their  rural county.   AAUW Sussex County Branch was a represented member for the formation of Wirths Campus, an extension of the former (defunct) private Upsala College.  The AAUW Sussex County Branch continued their realization of county higher education with their support of Sussex County Community College.  It continues today to support its community college, and local schools  with scholarships and programs.
AAUW– empowers women and girls through advocacy, education, philanthropy, and research. AAUW is a nonpartisan, nonprofit organization that has more than 150,000 members and supporters across the United States, as well as 1,000 local branches and 700 college and university partners. Since AAUW's founding in 1881, our members have examined and taken positions on the fundamental issues of the day — educational, social, economic, and political. AAUW uses its powerful voice on critical issues affecting women and girls. Join AAUW today!
---
AAUW Sussex County is pleased to announce that
Dr. Jon Connelly, President of Sussex County Community College
has named AAUW Sussex County to the President's Society of the College.
The President's Society at Sussex County Community College recognizes the generous benefactors who contribute $1000 or more each year to the SCCC Foundation. Sixty members of the President's Society donated 94.9 % of the money raised this fiscal year.
The vision of the society is to provide critical funding that will deliver the resources to achieve the college's mission and meet its potential.
---
Advancing Equity for Women and Girls through Advocacy, Education, Philanthropy, and Research

AAUW is a non-profit & non-partisan political organization that advocates on public policy issues that affect women. Issue advocacy is not just about AAUW lending its name to an issue, or speaking up on Capitol Hill.
Issue advocacy is about AAUW members and all citizens concerned with equity being knowledgeable and aware of the current status of important issues. For example: AAUW lobbied for women's voting rights as early as 1913. AAUW has been empowering women since 1881.
Civil Rights  – AAUW advocates equality, individual rights, and social justice for a diverse society.
 Economic Security – AAUW advocates for all women to achieve economic self-sufficiency.
Education – AAUW supports a strong system of public education that promotes gender
fairness, equity, and diversity.
Title IX – AAUW supports vigorous enforcement of Title IX and all other civil rights laws pertaining to education.
Healthcare The American Association of University Women (AAUW) believes that everyone is entitled to health care that is high-quality, affordable, and easily accessible.
---
Teaching College Women Salary Negotiation: $tart $mart Workshops
$tart $mart prepares college women who are approaching the job market with the confidence, knowledge, and skills they need to negotiate salaries and benefits. This three and a half hour workshop is a collaboration between AAUW and the WAGE Project.
When students leave the $tart $mart campus workshop, they learn
how the gender wage gap affects their lives
how to develop a personal budget to determine salary needs
how to benchmark salary and benefits
how to negotiate for their first salary out of college
According to AAUW research, just one year after graduation, women earn just 82 percent of what their male counterparts earn, and the gender wage gap widens over the next 10 years.
AAUW Sussex County Branch is excited to announce that Sussex County Community College was able to adopt this great AAUW program to fit the schedules of their busy working students that attend community college.  It will by offering two short continuing sessions for April 2015 through the Business Meeting Club.
---
AAUW Creates STEM Programs for Girls
Many girls have already formed opinions about which occupations are appropriate for their sex and then later decide to avoid male-dominated fields because of it.  Strong STEM education programs can help end this gender imbalance. The curricula of these STEM programs should integrate hands-on projects and focus on problem-solving, discovery, exploratory learning, and active engagement in order to find solutions. STEM programs can inspire and motivate girls at an age when their confidence in STEM skills statistically drops.
AAUW programs such as Tech Trek and Tech Savvy introduce girls to successful female role models in STEM. We aim to break down stereotypes surrounding these traditionally male-dominated fields and teach girls that intellectual skills grow over time, regardless of gender. These programs are a key part of AAUW's efforts to level the playing field for girls in math and science and draw on the hard work and commitment of AAUW members and supporters to serve girls throughout the country.
AAUW branches across the country have been empowering girls and teens in their communities with programs that build skills and confidence in the highly male-dominated STEM fields .  AAUW-NJ  developed teentech – a  day of exciting girl focused workshops through a hosting New Jersey college campus offered to high schools throughout New Jersey.  The AAUW Sussex County Branch further rallied the enrollment of  two Sussex County High Schools which supported women in technology  studies in their school curriculum to participate in AAUW-NJ's teentech. The teentech  STEM for girls program also included a separate STEM Conference for chaperoning teachers with engaging STEM ideas they could take back to their classrooms.  Visit AAUW-NJ to see more on teentech
---
AAUW Engages in A Movement to End Violence Against Women Throughout the World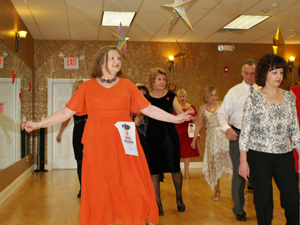 Sussex County AAUW branch member, Katy Fischer designed a special dance dedication for Fischer's Ballroom Magic participants  in a 2014 encore of V-Day  along with the AAUW-NJ Sussex County Branch. Both Ballroom Magic and the Sussex County Branch felt gratified that Vernon and their Sussex County community became part of this world team of One Billion Rising. It is a movement that AAUW has been supporting and encouraging it members to participate in to bring awareness of this issue in their own community.   According to Vday.org, in 2013 over 5,800 V-Day benefits took place. On Valentine's Day loving and caring couples of Vernon and Sussex County NJ danced in the spirit of V-Day – they shared a belief that all women throughout the world should have the same life– one that is creative and thriving rather than spent recovering from violence.
Watch our first dance dedication
 Membership to AAUW in recent years, have provided the opportunity for personal milestones – live advocate engagement on Capitol Hill.   All participants of the 2011 AAUW National Convention held in Washington, D.C. were part of over 600 AAUW members that stopped by congressional offices to urge their senators and representatives to support the Campus Sexual Violence Elimination (SaVE) Act and improve campus safety. That bill became part of the VAWA – Violence Against Women Act which was passed by both the House and Senate.  These bills enforce safe college and university campus environments  free of sexual violence .
---
AAUW  Provides Recommendations on What We  Can Do to End the Normalization of Sexual Harassment in Young People's Lives
Talk about these issues with young people. Hear their stories and concerns. Discuss consent, respect, the difference between harassment and flirting, and their rights. Both Crossing the Line and Unsafe and Harassed in Public Spaces offer recommendations and resources you can use, and the latter also offers strategies that communities can use to make public places safer for everyone.
Finally, model good behavior: Don't harass, and please speak up when you witness harassment.
AAUW Sussex County Branch was ahead of the curve on these issues and provided Crossing the Line guidebooks as  additional reference tools for Schools and their learning centers throughout Sussex County.  Distribution of Crossing the Line was made available for the concerned public through a special dedicated AAUW Library Section of the Sussex County Public Library System.
Visit AAUW  and download 'Crossing the Line – Sexual Harassment in Schools.